The stunning Milford Haven Waterway offers 22 miles of navigable water. It is the responsibility of all Waterway users, whether recreational or commercial, to act safely at all times. 

As well as the useful safety information here, you must be aware of your responsibilities in relation to Waterway's rules and regulations. 

Tides and weather
Help keep yourself safe on the Waterway by checking tides and weather.
Say hello
Our Water Ranger helps ensure safety on the Waterway. The team assist in the management of recreational craft moorings and the implementation of the Milford Haven Waterway Recreation Plan. 
Undertaking regular patrols in the summer season, the Water Ranger provides information, advice and assistance to all waterway users. They also police the zoning systems and, where necessary, enforce bye-laws that seek to protect the safe and enjoyable recreational use of the Haven.
Whilst on patrol the Water Ranger can be contacted using VHF Channel 16 or VHF Channel 12 and can be approached for advice, information or assistance both on and off the water through enquiries@mhpa.co.uk.
Helpful things to know about the Waterway...
All vessels in the Waterway are required to monitor VHF Channel 12.


Large commercial vessels may, at times, make passage at higher speeds than expected to maintain proper control and steerage.


Despite some of the deepest recorded depths for a natural harbour, many of the deep draft commercial vessels can only navigate safely through the port within the maintained navigation channels. Confined as they are such vessels may not be able to easily avoid small craft within the navigable channels – it is up to you to stay clear.


A large vessel that is slowing down does not steer as well. It needs the propeller action on the rudder to respond. When the vessels engines are put "full astern" its manoeuvrability will be affected.


Remember that it takes time and distance for a large vessel to stop.


There are numerous other small vessels operating within Waterway. Watch out for pilot boats, ferry, tugs, workboats, barges, fishing vessels and other recreational vessels (especially at night).


All users or the waterway should be aware of and abide by Port Bye-laws and the International Regulations for the Prevention of Collisions at Sea (ColRegs).
Be mindful of your impact
When using the Waterway you must ensure that you are considerate towards all other users and follow our zoning designations, and our bye-laws.
As a user of a powered craft you should be aware of other recreational users in the haven and of commercial traffic, and moderate your passage accordingly. You should take particular care near training and teaching areas, moorings, waterski zones, marina entrances, launch sites and slipways, other craft at anchor, divers, pontoons, beaches where bathing is taking place and in the Dead Slow Minimum Wake areas. These areas contain navigational hazards such as shallow water, sandbars and mud flats. They are also of international importance for wildlife and most fall within the Pembrokeshire Coast National Park. As such we ask that you keep to a dead slow minimum wake to support the quiet and relaxed enjoyments of these areas.
You are also encouraged to follow the Pembrokeshire Marine Code to minimise any disturbance to wildlife and to enable you to have the best experience possible.
Also consider that both your speed and your wake can create a hazard. Wash created by your vessel travels; the impact might affect users some distance away - and even on the shoreline. We ask for your consideration in travelling at the designated speed and always being mindful of other users.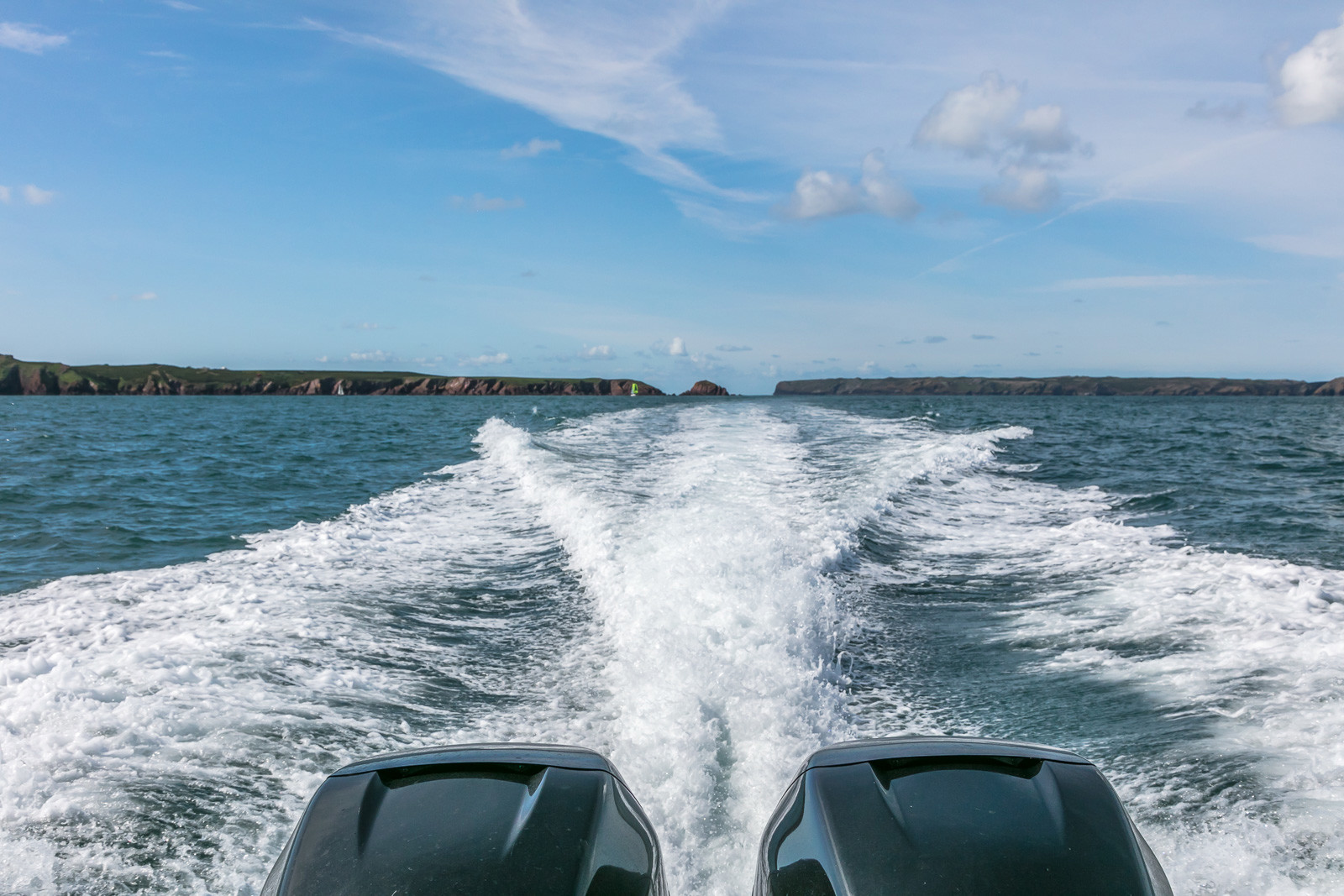 Action you should take to stay safe afloat
Avoid sailing in the commercial ship channels when you can, especially in poor visibility and when deep draft vessels are manoeuvring. If you cannot sail outside the channel, obey Rule 9 of the ColRegs for conduct in narrow channels by keeping as near to the outer limit of the channel which lies on the starboard side (right) of your vessel as is safe and practicable, crossing only when it will not impede the passage of a large vessel confined to the channel by draught.
Be visible. At night make sure your navigation lights can be seen. If you see the navigation lights of a vessel and you think you have not been seen, get out of the way. Use torches, search lights or a spotlight on sails or prominent structures on your vessel. Carry a radar reflector high on your boat. Remember, from the bridge of a large vessel, the captain or pilot may lose sight of you more than a third of a mile ahead. If you can't see the bridge they can't see you!
Keep a good look out so you are aware what is going on around you.
Don't forget to look behind, and to keep watch at night. Even on a clear night you may have difficulty seeing vessels approaching or objects in the water.
Do not underestimate the speed of ships. (At 6 knots, a vessel travels 1 nautical mile in 10 minutes; at 15 knots it takes only 4 minutes.) Monitor the approach of vessels and remain clear when required. If your boat is slow, allow sufficient time to take effective evasive action or cross channels in the vicinity of large ships.
Learn about the markers on the waterway. These markers are the equivalent of road signs. It is important you know how to recognise them, what they mean and how they are used, particularly by the larger vessels using the Waterway.
Watch the ship's lights. If you see both sidelights (red and green), you are dead ahead – MOVE CLEAR. Be aware that ships alter course on passage through the Waterway. You must be sure of your position and be aware of other vessels operating around you.
Know the sound signals on the Waterway. Vessels often use sound or light signals to communicate. If you hear 5 short blasts, the master or pilot of a vessel is trying to tell another vessel that they are unsure of its intentions. The master may be concerned about how close it is, or concerned with the course and speed another vessel is following. Check and see if it is for you - and if it is make your intentions clear and GIVE WAY. If in any doubt about who a vessel is signalling at the very least make your intentions obvious, allow sufficient sea room for the vessel to pass.
Know flag signals and shapes. Vessels also use flags and shapes to communicate. A common flag seen in the Waterway is the Code Flag 'A'. It indicates that divers are in the water. Divers may also deploy inflatable surface marker buoys which come in different shapes and styles. You should stay clear of any vessel flying this flag and keep a good lookout for surface marker buoys as divers may be some distance from the vessel.
Keep a VHF Radio tuned to channel 12, the Port working channel, and listen for traffic information from VTS; Call Sign Milford Haven VTS.
At the end of your day afloat make sure those ashore and the coastguard are aware of your safe return.


When leaving your vessel, whether in one of the Waterway's marinas or on a mooring, always make sure your vessel is properly secured so that it cannot drift.
Know your sport
We strongly recommended that all users should complete a recognised training course before venturing out onto open waters.
You need to be confident when you venture out that you are capable of getting yourself back to shore and know how to raise assistance if the situation demands.
If no formal training is available in your chosen sport we would recommend venturing out with first with one of the many local companies that specialise in watersports. They can help point out localised issues too.
Visit Pembrokeshire Outdoor Charter Group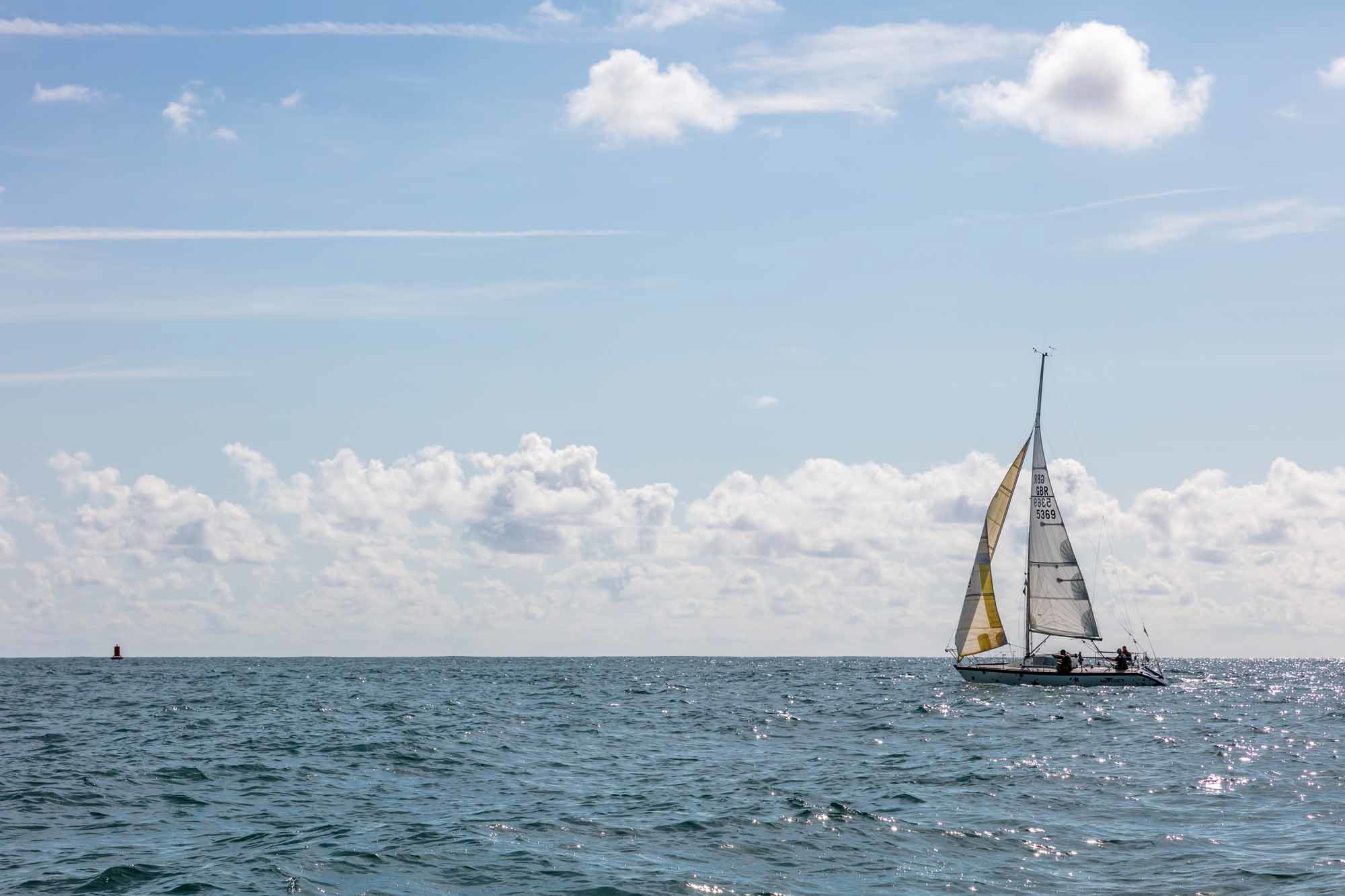 Wear kill cords
Alongside lifejackets, kill cords are one of the most important pieces of equipment on small power boats. A kill cord is a coiled red lanyard that has a quick release mechanism attached to the console which stops the boat in the event of the driver becoming dislodged. Proper use of the device can prevent serious incidents and even fatalities.
Read kill cord advice from the RYA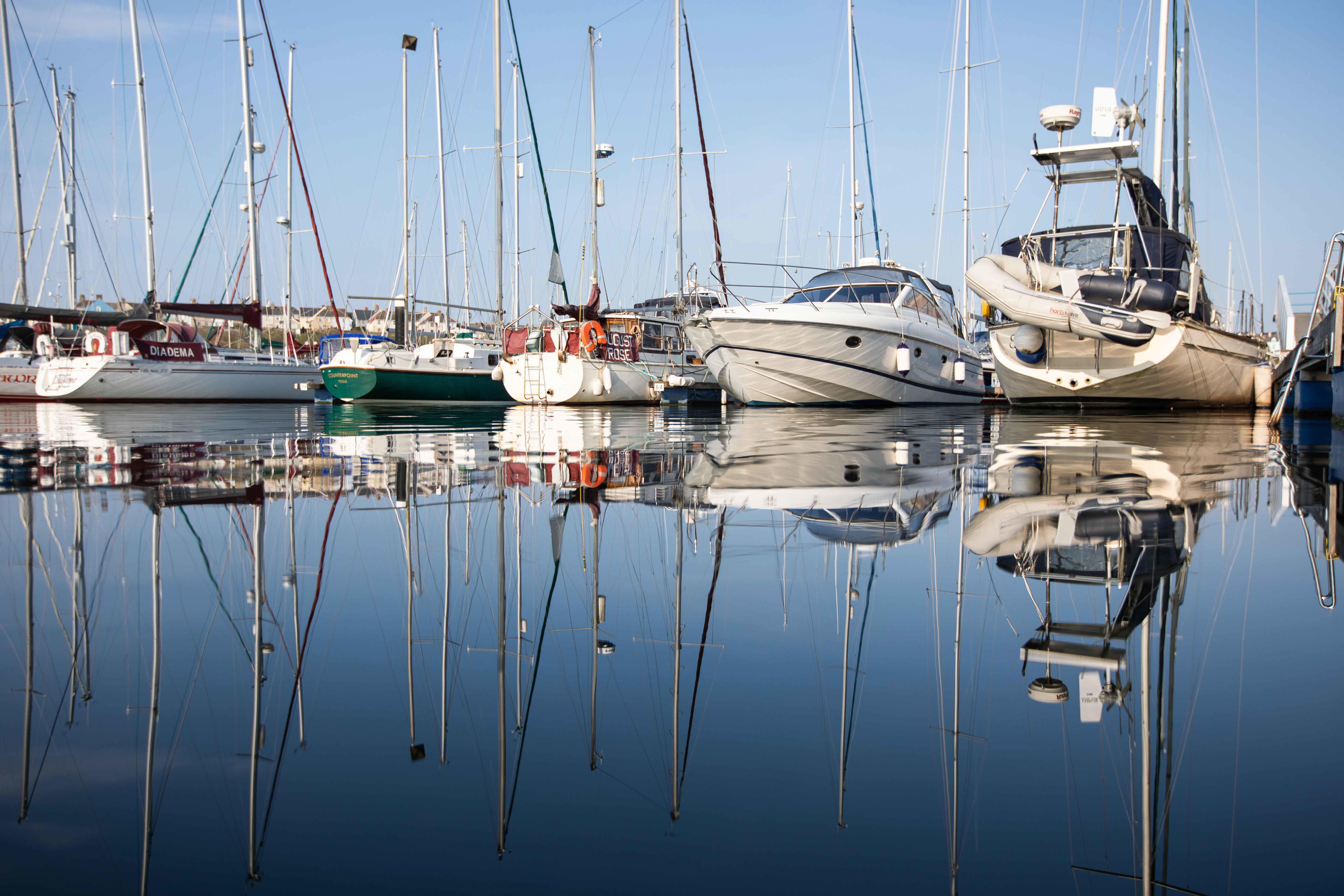 Personal Flotation Device checks
Whatever waterway activity you are doing, Personal Flotation Devices should always be worn.
The two types used for leisure activities are the buoyancy aid and the life jacket.
Constructed from foam, these combine buoyancy and freedom of movement - especially around the neck (though they can be bulky around the chest). Buoyancy aids are ideal for activities such as kayaking and dinghy sailing - anything where being in the water at some stage is considered likely and not classed as a problem. They are, however, inferior in performance to life jackets and not suitable in all circumstances or for use on sail and motor boats. They do not require much maintenance but should be washed with fresh water after salt water immersion/spray.
While this term commonly is used to cover all PFDs it is actually a specific term. Life jackets are designed to keep airways clear of water, even if you are unconscious. If you own a boat, a life jacket should be regarded as a key piece of equipment. There should be a life jacket for every person aboard, and they should all be in good working condition. Annual checks are recommended and these can be done professionally if you are unsure of what is involved.
It is worth giving your life jacket a freshwater wipe down if it has been exposed to spray and at the end of season (while doing the wipe down take care not to immerse the jacket and set off the auto inflate). You should also stow the life jacket with care when not in use.
If the jacket has auto-inflated, by accident or during an incident, you will need to replace the CO2 bottle. If you aren't sure, you can have the cannister checked to see if a replacement is required.
Top 10 weather planning tips
These simple steps can ensure every one stays safe and comfortable and steps ashore looking forward to the next voyage.
Check the weather forecast before your trip. If heading out to more open water make sure you check an inshore waters forecast. 


Keep an eye on the forecast and surrounding conditions while you are afloat. Be prepared to make alternate plans if the situation changes.


Make sure you know how to get help (before you go afloat) if you get into difficulties.


Wear life jackets. We can't stress enough how important this could be. 


Dress appropriately. It's so easy to forget that the conditions on water are usually colder, especially if you will be travelling at speed - or if you get wet. Make sure everyone aboard brings something warm with them and, ideally, some waterproof clothing and a hat. It doesn't have to be expensive, just something that will keep them warm and dry if the need arises.


Bring spares!


Be prepared to return early if the weather is deteriorating and unlikely to recover.


Pack food and water. A flask of something hot can really lift the spirits in poor weather.


Find a safe haven. There are two marinas on the Milford Haven Waterway, and plenty of quiet corners - but make sure you check your charts and talk to locals (if you don't know the Waterway). You can also contact the Water Ranger for advice. 


Hats, sunglasses and sunscreen will help protect you from the sun overhead and from the glare from the water. Windy but sunny days can feel colder, but the same protection is needed.