Get The Boys A Lift named Port's 2020 Charitable Cause of the Year
21/01/2020
---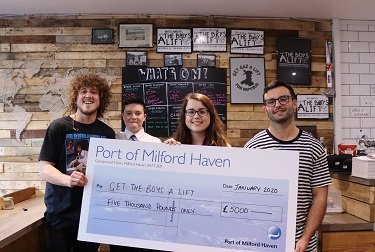 The votes have been counted and the winners are… Get the Boys a Lift!
Each year staff at the Port of Milford Haven vote for a local cause to be named their official charitable cause of the year which means they will receive a financial donation, as well as support through fundraising activities and events.
Get the Boys a Lift is a mental health charity which was started in 2016 by Gareth Owens who began hitchhiking around Wales and selling T-shirts to raise money for a suicide prevention charity. He was soon joined by a group of friends and they now run a not-for-profit coffee shop and drop-in counselling centre in Haverfordwest.
Welcoming the news, Managing Director Gareth Owens said "We're incredibly grateful for this support and to have the Port of Milford Haven behind us. In 2019 alone, we were fortunate enough to provide free support to nearly 100 people ranging from counselling and employment support, right through to drug and alcohol support. With the backing of the Port, we're optimistic about continuing to help the community and continuing the growth of our organisation, allowing us to support more people here in Pembrokeshire."
Lauren Williams, Community Engagement Assistant at the Port, is looking forward to the new partnership. "Get the Boys a Lift have been doing some great work in Pembrokeshire supporting people struggling with their mental health" she commented. "Our staff always come up with some great fundraising ideas so I'm sure we'll be getting involved in all sorts of activities to help the team."
For more information about Get the Boys a Lift please visit www.get-the-boys-a-lift.mybigcommerce.com 
-Ends-
Photo caption: Lauren Williams from the Port with the team from Get the Boys a Lift
Notes to Editors
Port of Milford Haven
The Port of Milford Haven is the UK's top energy port and Wales' busiest port handling around 20% of Britain's seaborne trade in oil and gas.  It is widely recognised in the industry as the energy capital of the UK.
The Port, along with the cluster of energy-related businesses along the Waterway, is a key driver of economic activity in Pembrokeshire, attracting inward investment and supporting over 4,000 jobs.
The Port of Milford Haven also owns and operates Pembroke Port and Milford Dock.  Activities such as cargo handling, ferry operations, fish landing and cruise calls as well as a first class marina are spread across these two sites. 
One of the most prominent on the West Coast, the Port is in the heart of the Pembrokeshire Coast National Park, the only Coastal National Park in Great Britain. It is marked as a Special Area of Conservation (SAC) and has many areas designated as Sites of Special Scientific Interest (SSSI).
The Port of Milford Haven is a trust port – an independent, commercially run organisation that has statutory responsibilities governed by its Acts, to maintain and improve navigation and the provision of Port and Harbour services and facilities.  Additionally, the Port provides significant financial and in-kind support to a wide variety of local causes.  All profits are retained within the business to fund these objectives. 
For further information, visit www.mhpa.co.uk or contact:
Sara Aicken
Port of Milford Haven
01646 696100
sara.aicken@mhpa.co.uk