Port funds new equipment for Wisemans Bridge Rowing Club to accommodate new members
25/09/2019
---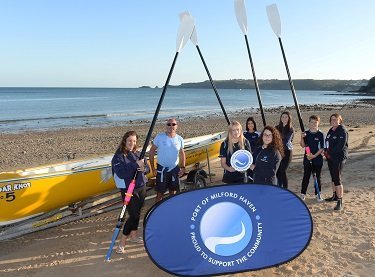 The Port of Milford Haven's Community Fund has aided Wisemans Bridge Rowing Club (WBRC) in purchasing a new set of oars that will benefit their younger members and increase accessibility. The new M2 lightweight narrow shaft extra flex Croker oars will be specific for WBRC junior rowers and its adaptive rowing crews, offering a lighter and more flexible alternative to the club's existing equipment.
These oars are especially important as WBRC is the first sea rowing club in Pembrokeshire to be awarded the Disability Sports Wales, Bronze InSport award. This recognises the club's work with disabled people in making rowing inclusive for everyone and will enable members of all abilities, including participants with learning or physical disabilities from all over Pembrokeshire, to take part in outdoor rowing.

Wisemans Bridge Rowing Club has taken part in initiatives over previous seasons with 'Learn to Row' projects involving #ThisGirlRows in 2016 and #StrollerRowers in 2018, with both proving hugely successful in coaching different groups of people from all walks of life to row in a 12-session programme starting indoors and then heading out onto the water.
As well as this, the club has been involved with Saundersfoot Rotary Tenderfoot Team, a sporting club for disabled people from all over Pembrokeshire. Adaptable equipment has been installed by the club to assist in these projects, and the acquirement of the new lightweight Croker oars will allow the group to continue its work in teaching participants of all abilities how to row.
The lighter, more dynamic Croker oars will provide more suitable equipment for younger participants too. The tailored nature of the oars offers reduced handle size which accommodates smaller wrists and weaker hand strength. As well as this, the flexible oar and narrow blade reduces strain on the body when the blade enters the water. This will make rowing easier for inexperienced participants and reduce the strain on others on the boat if the rowers aren't all in time with one another, giving every participant the chance to match their skill level on the water.
Simon Collings, Chairman, Wisemans Bridge Rowing Club, commented:
"We are really proud of the work WBRC has been doing with participants of all abilities. We have invested heavily over the past few seasons to build up our range of adaptive equipment and personal development of our coaching team, and the Croker oars will be a great edition to help get everyone out on the water safely. The Pembrokeshire coastline is such a beautiful place, especially out on the water, and we are fortunate to use it as our playground, it's a very special place to be. Using the new oars, we look forward to developing new crews and offering sea rowing to people who may never have thought it possible."
Kailea Turner, Stakeholder Engagement Officer Port of Milford Haven added: "Wisemans Bridge Rowing Club has been doing some fantastic work with rowers of all ages and abilities, and we are proud to be able to support that by funding the new Croker oars."
The Community Fund is a financial support initiative set up by the Port, which provides funds for charities, community organisations and social enterprises that operate within Pembrokeshire. The deadline for applications is the 25th of each month, and organisations can apply online: www.mhpa.co.uk/community-fund.
-Ends-
Photo caption: Kailea Turner, Stakeholder Engagement Officer at the Port, meets Phil Thomas and Gabi Slaughter of Wisemans Bridge Rowing Club along with junior rowers and their new oars.

Notes to Editors
Port of Milford Haven
The Port of Milford Haven is the UK's top energy port and Wales' busiest port handling around 20% of Britain's seaborne trade in oil and gas. It is widely recognised in the industry as the energy capital of the UK.
The Port, along with the cluster of energy-related businesses along the Waterway, is a key driver of economic activity in Pembrokeshire, attracting inward investment and supporting over 4,000 jobs.
The Port of Milford Haven also owns and operates Pembroke Port and Milford Dock. Activities such as cargo handling, ferry operations, fish landing and cruise calls as well as a first class marina are spread across these two sites.
One of the most prominent on the West Coast, the Port is in the heart of the Pembrokeshire Coast National Park, the only Coastal National Park in Great Britain. It is marked as a Special Area of Conservation (SAC) and has many areas designated as Sites of Special Scientific Interest (SSSI).
The Port of Milford Haven is a trust port – an independent, commercially run organisation that has statutory responsibilities governed by its Acts, to maintain and improve navigation and the provision of Port and Harbour services and facilities. Additionally, the Port provides significant financial and in-kind support to a wide variety of local causes. All profits are retained within the business to fund these objectives.

For further information, visit www.mhpa.co.uk or contact:

Anna Malloy
Port of Milford Haven
01646 696100
anna.malloy@mhpa.co.uk