Port of Milford Haven supports sports stars of the future
12/09/2019
---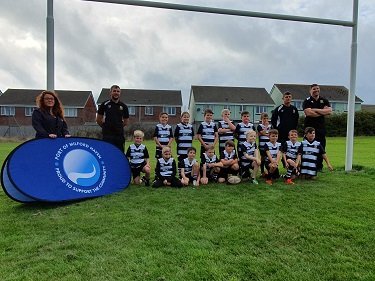 Staff at the Port of Milford Haven have been backing clubs and organisations that enable young people to embrace a wide range of sports.
The Port runs a Community Fund which charities and community groups can apply to, with applications decided upon by a committee of employees from across the organisation.
Over the past few months a large number of youth-based sports clubs have received funding including Hook Juniors Cricket Club, Milford United U12s, Monkton Swifts Junior Football Club (Under 14s), St Ishmaels Junior Cricket Club and Pembroke Dock Harlequins RFC (Under 9s). Some have been able to purchase equipment including bats and goal posts, while others have benefitted from new kit for the players.
Kailea Turner, Stakeholder Engagement Officer, commented "We're proud to be able to support so many sports teams that young people are involved in. Not only do they teach members new skills, but they also promote behaviours such as team work, problem solving and confidence. The wellbeing of future generations is extremely important to our organisation so it's great to help groups that offer new opportunities and nurture the talents of so many young people in our community."
Charities and community groups based in Pembrokeshire seeking funding can apply to the Port online at www.mhpa.co.uk/community-fund
-Ends-
Photo caption: Kailea Turner from the Port with Pembroke Dock Harlequins RFC Under 9s and their coaches (L-R) Sam John, Alex Frearson and Neil Harries.

Notes to Editors
Port of Milford Haven
The Port of Milford Haven is the UK's top energy port and Wales' busiest port handling around 20% of Britain's seaborne trade in oil and gas. It is widely recognised in the industry as the energy capital of the UK.
The Port, along with the cluster of energy-related businesses along the Waterway, is a key driver of economic activity in Pembrokeshire, attracting inward investment and supporting over 4,000 jobs.
The Port of Milford Haven also owns and operates Pembroke Port and Milford Dock. Activities such as cargo handling, ferry operations, fish landing and cruise calls as well as a first class marina are spread across these two sites.
One of the most prominent on the West Coast, the Port is in the heart of the Pembrokeshire Coast National Park, the only Coastal National Park in Great Britain. It is marked as a Special Area of Conservation (SAC) and has many areas designated as Sites of Special Scientific Interest (SSSI).
The Port of Milford Haven is a trust port – an independent, commercially run organisation that has statutory responsibilities governed by its Acts, to maintain and improve navigation and the provision of Port and Harbour services and facilities. Additionally, the Port provides significant financial and in-kind support to a wide variety of local causes. All profits are retained within the business to fund these objectives.
For further information, visit www.mhpa.co.uk or contact:
Anna Malloy
Port of Milford Haven
01646 696100
anna.malloy@mhpa.co.uk