Port of Milford Haven launches annual Stakeholder Survey
26/07/2019
---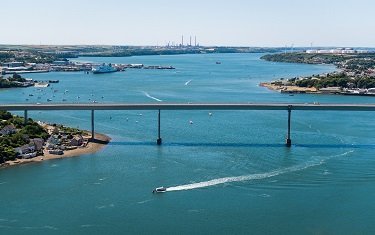 The Port of Milford Haven is offering stakeholders the chance to comment on its performance, priorities and future plans. The annual Stakeholder Survey has been launched to gauge how the public view the UK's largest energy port.
The 2018 results saw 85% of respondents respond positively, which is a 17% increase over two years. Other noteworthy outcomes were a shift in public perception around the strategy to promote renewable energy in Pembrokeshire, with an 8% increase in support up to 83%. The Port's role in the community was widely supported as 95% of respondents agreed that it should continue its community work and 86% thought it was important to remain as a Trust Port.
Anna Malloy, Stakeholder Engagement and Communications Manager, is encouraging anyone with an interest in the Port's activities and operations to get involved. "The Milford Haven Waterway is a unique stretch of water that is used by a wide range of commercial and leisure craft, as well as supporting other important industries such as tourism and fishing. We're keen to hear from as many people who interact with the Waterway and the Port as possible as we really value the feedback and use it to help shape our strategy moving forward", she said.
The survey can be completed online at http://bit.ly/POMH2019 and should take no more than 10 minutes. Respondents will be asked to leave their contact details if they wish to enter a prize draw to win £100 of vouchers to spend in any Milford Waterfront retailer, restaurant or café. The survey closes on Friday 2nd August.

-Ends-
Photo caption: The Milford Haven Waterway supports a wide range of industries

Notes to Editors
Port of Milford Haven
The Port of Milford Haven is the UK's top energy port and Wales' busiest port handling around 20% of Britain's seaborne trade in oil and gas.  It is widely recognised in the industry as the energy capital of the UK.
The Port, along with the cluster of energy-related businesses along the Waterway, is a key driver of economic activity in Pembrokeshire, attracting inward investment and supporting over 4,000 jobs.
The Port of Milford Haven also owns and operates Pembroke Port and Milford Dock.  Activities such as cargo handling, ferry operations, fish landing and cruise calls as well as a first class marina are spread across these two sites.
One of the most prominent on the West Coast, the Port is in the heart of the Pembrokeshire Coast National Park, the only Coastal National Park in Great Britain. It is marked as a Special Area of Conservation (SAC) and has many areas designated as Sites of Special Scientific Interest (SSSI).
The Port of Milford Haven is a trust port – an independent, commercially run organisation that has statutory responsibilities governed by its Acts, to maintain and improve navigation and the provision of Port and Harbour services and facilities.  Additionally, the Port provides significant financial and in-kind support to a wide variety of local causes.  All profits are retained within the business to fund these objectives.
 
For further information, visit www.mhpa.co.uk or contact:
Sara Aicken
Port of Milford Haven
01646 696100
sara.aicken@mhpa.co.uk