Port sponsors Milford Youth Matters to deliver youth provision throughout 2019
13/05/2019
---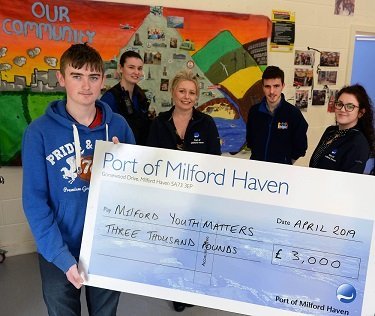 The Port of Milford Haven and Milford Youth Matters (MYM) have recently expanded their long-running partnership. The two organisations are committed to creating opportunities for young people in the town of Milford Haven and are coming together this year to deliver an extended range of services, activities and events.
Milford Youth Matters is now able to provide youth provision every Friday night throughout school holidays, in addition to its term-time service, thanks to a financial donation by the Port of Milford Haven. By providing an indoor venue and use of its land around Milford Waterfront the Port has also enabled MYM to offer a targeted, detached service for young people aged 11-18.
The Port of Milford Haven has worked in collaboration with Milford Youth Matters for a number of years, delivering award winning events such as Wave and Under the Bridge. Its partnership aims to change perceptions, reduce anti-social behaviour, increase community safety and support young people in having a voice in order to shape their futures.
Dayle Gibby, Milford Youth Matters co-ordinator commented: "It is very exciting to be working with the Port again this year. Together we have delivered some amazing projects for the local youth community, and being able to continue that is brilliant. We are very grateful that the Port recognises the importance of youth engagement, and is eager to support it. We have some incredible young people in our community, and our work with the Port enables us to help unlock that potential."
Anna Malloy, Stakeholder Engagement and Communications Manager for the Port of Milford Haven added: "We are very pleased to be able to support Dayle and the team at Milford Youth Matters. The work they do is very important for our community, and they are playing a vital role as a delivery partner for our youth engagement activities throughout the year. Together we are looking forward to supporting young people to achieve their potential."

-Ends-
Photo caption: Port staff present Milford Youth Matters with a financial donation towards their Friday night youth programme.

Notes to Editors
Port of Milford Haven
The Port of Milford Haven is the UK's top energy port and Wales' busiest port handling around 20% of Britain's seaborne trade in oil and gas. It is widely recognised in the industry as the energy capital of the UK.
The Port, along with the cluster of energy-related businesses along the Waterway, is a key driver of economic activity in Pembrokeshire, attracting inward investment and supporting over 4,000 jobs.
The Port of Milford Haven also owns and operates Pembroke Port and Milford Dock. Activities such as cargo handling, ferry operations, fish landing and cruise calls as well as a first class marina are spread across these two sites.
One of the most prominent on the West Coast, the Port is in the heart of the Pembrokeshire Coast National Park, the only Coastal National Park in Great Britain. It is marked as a Special Area of Conservation (SAC) and has many areas designated as Sites of Special Scientific Interest (SSSI).
The Port of Milford Haven is a trust port – an independent, commercially run organisation that has statutory responsibilities governed by its Acts, to maintain and improve navigation and the provision of Port and Harbour services and facilities. Additionally, the Port provides significant financial and in-kind support to a wide variety of local causes. All profits are retained within the business to fund these objectives.
For further information, visit www.mhpa.co.uk or contact:
Anna Malloy
Port of Milford Haven
01646 696100
anna.malloy@mhpa.co.uk