Impasto to bring traditional Italian flavour to Milford Waterfront
09/10/2018
---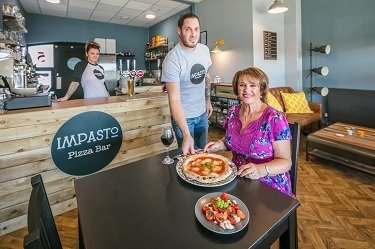 Italian heritage is being brought to Milford Waterfront with its newest resident, Impasto. Michael Turpin and Loren Mulholland are the co-owners of the new pizza and pasta restaurant that will deliver Turpin's familial connection to Naples with a pizza oven and high quality ingredients. Impasto promises to offer more than the standard pizza place.
With a menu of ten Neapolitan style pizzas that will be cooked on freshly made dough and customised with additional toppings, as well as calzone, pasta and a range of flavourful sides, the pizzeria will be open between Wednesday-Sunday midday to 9pm initially.
It isn't all pizza though. As well as this, it will be offering its own take on sandwiches with its Panuozzo, a fresh dough ball cut in half and shaped into a pitta that after baking can be cut open to create a pocket filled with delicious ingredients. Impasto will also be offering a range of locally sourced drinks from Wilson Wines, Tenby Brewing Co., Gethyns Cider; and coffee from Morrillo's, as well as having three beers on tap.
Impasto will fuse Michael's Italian heritage with his love for Milford Haven. He said: "The Waterfront location of our restaurant is simply perfect. Loren and I are both from Milford, and we are very excited to be bringing the flavours of Italy to the area. The views of the water are going to perfectly complement our vision for Impasto, and we knew that Milford Waterfront was the only place we wanted to be."
Melanie Jenkins, Property and Legal Manager of Quayside Properties, that lets Impasto's new premises added: "Impasto will make a fantastic addition to Milford Waterfront. Michael and Loren have created a pizzeria that promises excellence, both in its décor and food. We wish them all the best for the future."
-Ends-
Photo: Michael Turpin proudly serves his Mother with a freshly cooked Neapolitan pizza, hoping it does their family heritage justice.
Notes to Editors
Milford Waterfront
Milford Waterfront is a multi-million pound regeneration project being led by the Port of Milford Haven. It aims to revitalise the marina and docks into a vibrant destination, adding to the existing mix of leisure, retail and dining businesses and boosting the economy by providing long term, sustainable jobs.
A number of flagship projects have already been completed at the site including the installation of new lock gates that have significantly reduced locking times and the construction of new fishing buildings for the industry.
The new development will also celebrate the arts, culture and heritage of the area, working in partnership with key stakeholders. The Port already hosts a busy calendar of events at the marina such as Torch Theatre Sunset Cinema screenings and awards ceremonies which add to the diverse range of attractions on the waterfront.
In June 2018, Pembrokeshire County Council unanimously approved a revision to the Milford Waterfront development's outline planning consent.
For further information, visit www.milfordwaterfront.co.uk or contact:
Anna Malloy
Port of Milford Haven
01646 696100
anna.malloy@mhpa.co.uk