Mini Quins take the Ospreys Challenge
03/05/2018
---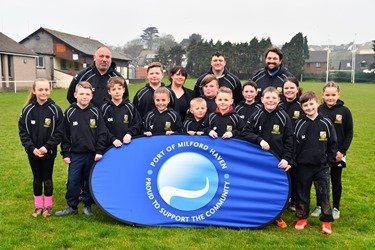 Players from Pembroke Dock Harlequins RFC Under 9's team were recently given the opportunity to take part in the first ever Ospreys Challenge.
Fifteen team members travelled to Pencoed Rugby Club to participate in the 'Ospreys in the Community' miTour Festival during the Easter holidays.  Proudly wearing their new Port of Milford Haven tour kit, the group represented their club and Pembrokeshire alongside 750 others from over 60 Welsh and English clubs. 
The team train at Bierspool and players live and go to school in Pembroke Dock.  Coaches of the mini section ensure that players of all abilities are able to enjoy the sport of rugby whilst keeping fit and healthy in an inclusive and supportive team environment.  
The young players relished the intensity of playing a tournament, competing in eight matches over two days and the opportunity to go on tour together strengthened the team, developed their sporting ability and increased confidence.  To complete the weekend all children were presented with a medal for effort and performance, by an Ospreys player.
Parent and Team Admin Manager Lucy Cawley said, "I'd like to say a massive thank you to the Port of Milford Haven for their extremely kind donation which enabled us to buy a team hoodie for all players and coaches to wear on our recent tour, they kept the children warm between matches, they looked smart and helped us to be identified as a team.  The children were really excited to receive them and will continue to wear them to training.  A big thank you for supporting the team".
Anna Malloy, Stakeholder Engagement and Communications Manager at the Port of Milford Haven, said "I am delighted that the Port's Community Fund was able to support the Under 9's team during their recent tour.  A committee of employees from across the organisation assess all applications for financial support and are always motivated to see how their support can impact on the lives of people in their local community."
To apply to the Port of Milford Haven's Community Fund, please visit www.mhpa.co.uk/community-fund
-Ends-
Photo caption: Emma Hutchings, PR and Communications Assistant at the Port, with members of Pembroke Dock RFC Under 9's team in their new tour hoodies
Notes to Editors
Port of Milford Haven
The Port of Milford Haven is the UK's top energy port and Wales' busiest port handling around 20% of Britain's seaborne trade in oil and gas.  It is widely recognised in the industry as the energy capital of the UK.
The Port, along with the cluster of energy-related businesses along the Waterway, is a key driver of economic activity in Pembrokeshire, attracting inward investment and supporting over 4,000 jobs.
The Port of Milford Haven also owns and operates Pembroke Port and Milford Dock.  Activities such as cargo handling, ferry operations, fish landing and cruise calls as well as a first class marina are spread across these two sites.
One of the most prominent on the West Coast, the Port is in the heart of the Pembrokeshire Coast National Park, the only Coastal National Park in Great Britain. It is marked as a Special Area of Conservation (SAC) and has many areas designated as Sites of Special Scientific Interest (SSSI).
The Port of Milford Haven is a trust port – an independent, commercially run organisation that has statutory responsibilities governed by its Acts, to maintain and improve navigation and the provision of Port and Harbour services and facilities.  Additionally, the Port provides significant financial and in-kind support to a wide variety of local causes.  All profits are retained within the business to fund these objectives.
For further information, visit www.mhpa.co.uk or contact:
Anna Malloy
Port of Milford Haven
01646 696100
anna.malloy@mhpa.co.uk