New women's fashion store Boobaloo Boutique opens at Milford Waterfront
24/11/2017
---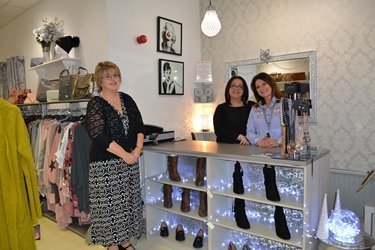 If you're looking to wrap up warm for winter or get glammed up for Christmas, Milford Waterfront's new women's fashion store is the place to visit. 
Boobaloo Boutique officially opened its doors to crowds of shoppers on Saturday 11th November after weeks of preparations at their new premises at 4 Vanguard House. Owner Jacquelyn Morrell already owns a boutique in Risca and online, and after doing so well and recently winning a 'Fashion Retailer of the Year' Award, decided to launch the brand in Pembrokeshire. Among the products on sale are a winter fashion collection, party wear, handbags, scarves and accessories in sizes ranging from 6 to 24 which can be purchased in store or online at Boobalooboutique.com.
"I am very proud to be bringing our award winning boutique to Milford Waterfront," said Jacquelyn. "Being a local person, it has been a desire of mine to set up an additional business in Pembrokeshire for some time and what better setting! I am confident that our store will be a great addition to the plethora of quality retailers and food establishments already based at the marina. I cannot think of a better way to spend a few hours than strolling around the wonderful range of shops and having a great lunch whilst viewing the array of boats on the water, simply idyllic!"
Clare Stowell, Property and Development Manager at the Port of Milford Haven, commented "Boobaloo Boutique is a fantastic addition to the diverse range of shops already on offer. Located in an attractive and vibrant marina setting, Milford Waterfront is becoming a sought after location for businesses seeking a busy retail and leisure environment. I'm really pleased to welcome Jacquelyn to the waterfront and I'm sure Boobaloo Boutique will prove to be very popular as the Christmas party season gets underway."
For more information on retail space at Milford Waterfront please visit www.quayside.properties or call Clare Stowell on 01646 696380.
-Ends-
Photo caption: Melanie Jenkins, Assistant Property Manager at the Port of Milford Haven, with Jacquelyn Morrell and Rachel Stanmore of Boobaloo Boutique

Notes to Editors
Milford Waterfront
Milford Waterfront is a multi-million pound regeneration project being led by the Port of Milford Haven. It aims to revitalise the marina and docks into a vibrant destination, adding to the existing mix of leisure, retail and dining businesses and boosting the economy by providing long term, sustainable jobs.
A number of flagship projects have already been completed at the site including the installation of new lock gates that have significantly reduced locking times and the construction of new fishing buildings for the industry.
The new development will also celebrate the arts, culture and heritage of the area, working in partnership with key stakeholders. The Port already hosts a busy calendar of events at the marina such as Torch Theatre Sunset Cinema screenings and awards ceremonies which add to the diverse range of attractions on the waterfront.
In February 2015, a resolution to grant consent was gained from Pembrokeshire County Council for the development and work is ongoing to finalise detailed plans that will soon be submitted to the local authority.
Anna Malloy
Port of Milford Haven
01646 696100
anna.malloy@mhpa.co.uk