There's a SPI in the Waterway!
21/05/2012
---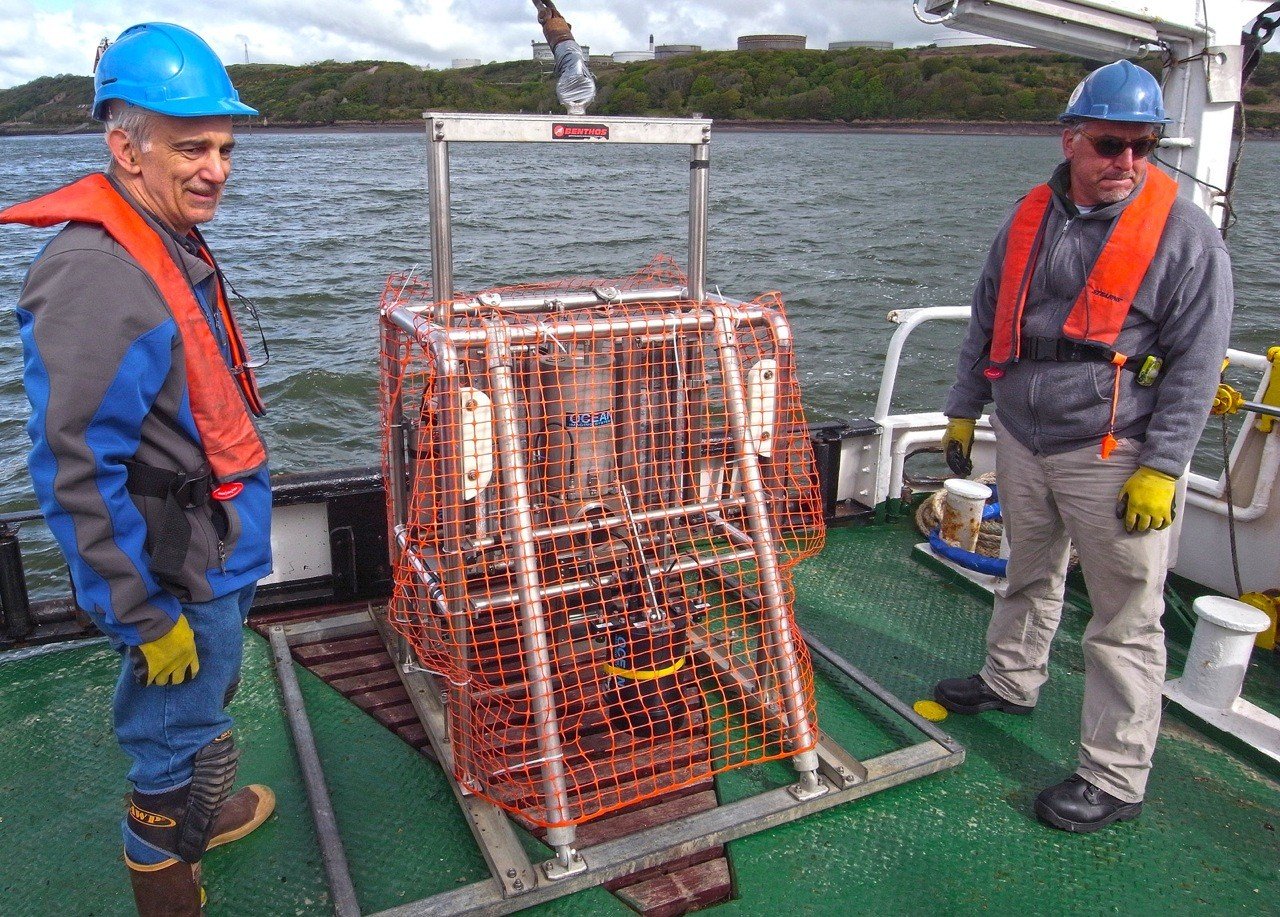 A team of marine scientists from Seattle, USA, are carrying out a detailed, high-tech survey of the seabed in Milford Haven and the Daugleddau estuary.   Sediment Profile Imaging, or SPI for short, is a non-destructive system that works like an upside-down periscope to cut a vertical slice into the seabed and take high resolution photographs without disturbing the sand, gravel and mud and the animals that live in it.
Joe Germano, who developed the system, and his team have carried out SPI surveys all over the world during the last 25 years from Alaksa to Azerbijan, to monitor dredging and dredge spoil disposal, airport construction and pollution hotspots.  They are used to working in industrial waters and in 2011 spent several weeks in the Gulf of Mexico carrying out surveys for BP following the Deepwater Horizon oil spill.
Joe explained that not only is SPI rapid and cost effective but it also produces results that are easily understandable.  "Many environmental programmes have suffered because of their inability to convey results to regulators or a public audience who may not have a marine science background. One of this system's most powerful qualities is its ability to convey environmental information in a format that most people can understand quite easily: a picture" said Joe.
This survey has been commissioned by the Milford Haven Waterway Environmental Surveillance Group - a partnership between the major industries around the Haven, Milford Haven Port Authority, Pembrokeshire County Council, Countryside Council for Wales and the Environment Agency. 
The Group, which celebrates 20 years carrying out environmental surveillance of the Haven this year, brought in this overseas expertise to bring up to date what is known about the complicated structure and wildlife living in the Haven's seabed both to check for impacts from current activity and to reestablish the baseline for keeping an environmental eye on the effects of future development.
Mark Andrews, Corporate Affairs Director at Milford Haven Port Authority and the Group's chairman said "Our purpose is to gather data to enhance knowledge about this gem of a Waterway. This is without doubt the most ambitious project that we have undertaken since the Group's inception  in 1992."
-Ends-

Further information: contact Blaise Bullimore, Milford Haven Waterway Environmental Surveillance Group Project Manager on 07972 128115
Photo caption: Joe Germano and assistant Ray Valente with SPI camera on Environment Agency Survey Vessel Coastal Guardian off Neyland.  Photo credit Blaise Bullimore.