About the Port
The Port of Milford Haven is a leading UK shipping gateway handling liquid bulk, break bulk, dry bulk and project cargoes. Its operations include a fishing dock, cargo port, marina, retail park and ferry terminal. 
From its west coast location, the Port of Milford Haven delivers solutions in:
Two flagship projects, Milford Waterfront and Pembroke Dock Marine will continue to expand the Port of Milford Haven's business portfolio.
Key strategic advantages
It has the following key strategic advantages: 
Over 17.0m depth of water available at all states of tide and the ability to handle vessels with drafts of up to 22.0m
Proximity to Atlantic trade routes
No lock restrictions
High capacity gas and oil pipelines and electricity connections to the centre of the UK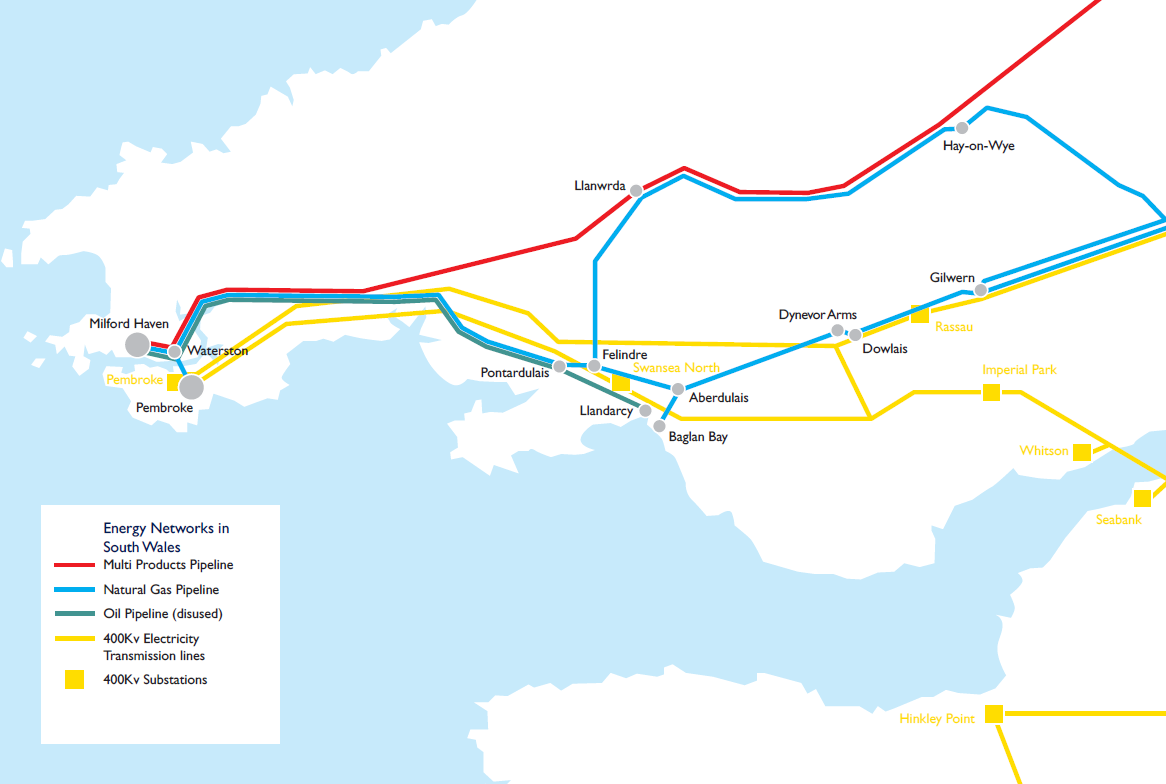 The South Wales Energy Network (click to enlarge)
Deep Sea Operations
The Port of Milford Haven is the UK's largest energy port. It is the country's largest handler of oil and gas, and is capable of delivering 30% of the UK gas demand. The Port currently serves: Valero Refinery and Valero Pembrokeshire Oil Terminal, Puma Energy, South Hook LNG and Dragon LNG. Cargoes are received from the North Sea, North and West Africa, the Middle East, Asia and Europe and processed materials are transported domestically and internationally. The waterway is also home to Europe's largest gas-fired power station, Pembroke Power Station, built by RWE nPower. A diverse high-skill supply chain has developed locally to support the energy sector which is increasingly incorporating the marine renewable energy sector.
Quayside Operations
The Port of Milford Haven owns and operates Pembroke Port, Pembroke Dock Ferry Terminal, Milford Marina, Milford Fish Docks and Quayside Properties. Activities and services include cargo handling, fish landing, ferry operations, marina facilities and cruise calls.