Port helps Pembrokeshire pupils complete Duke of Edinburgh awards
17/11/2021
---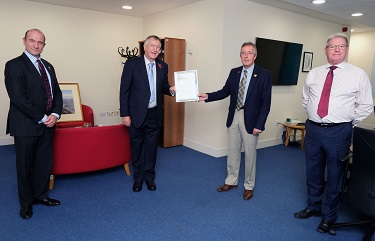 Pupils from three Pembrokeshire schools have been given the opportunity to participate in the life-changing Duke of Edinburgh's Award programme this year thanks to sponsorship from the Port of Milford Haven.
Throughout 2021, the Port has been a Silver Associate Supporter of DofE in Wales enabling young people from Milford Haven School, Ysgol Harri Tudur in Pembroke Dock and Portfield School in Haverfordwest to enrol onto and complete Bronze, Silver and Gold Awards.
Open to 14-24 year olds, the programme is designed to develop essential skills for life and work and provides opportunities for participants to discover new interests and talents.
Robert Newsome OBE, who is Chair of Ambassadors for DofE  Wales, said "We are grateful to the Port of Milford Haven for their commitment to the targeted development and growth of DofE in these schools. The county has a strong reputation in Wales for delivering DofE and has established a lasting legacy of offering it throughout Pembrokeshire. Those who work with adolescent learners see the intrinsic values associated with the programme and reflect on the positive impact it has on all participants. This investment from the Port will help support the delivery of a substantive training programme for staff and to ensure accessibility to participate in DofE is available to all."
The Port's Chair, Chris Martin, commented "We are proud to be a Silver Associate Supporter and are pleased that it will further the growth and development of the DofE programme in schools in Milford Haven, Pembroke Dock and Haverfordwest. The ethos of the scheme, which equips young people with the skills, experience and confidence to successfully navigate adult life resonates with our purpose and core values, and we look forward to many years of collaboration and cooperation with such a wonderful organisation."
The Port met with DofE representatives at County Hall recently where the Leader of Pembrokeshire County Council Councillor David Simpson, who is a DofE Gold Award holder, said "As a lifetime supporter of the programme it gives me great pleasure to support it in any way I can. Having gained my Bronze, Silver and Gold awards many years ago I know how it can help in the transforming of young people's lives. It is open to all backgrounds, cultures and abilities. I believe a DofE award can be a gamechanger."
For more information on the programme visit www.dofe.org
-Ends-
Photo caption: (Left-right) Will Bramble CBE, Chief Executive of Pembrokeshire County Council; Robert Newsome OBE, Chair of Ambassadors for DofE in Wales; Chris Martin, Chair of the Port of Milford Haven and Leader of Pembrokeshire County Council, Councillor David Simpson, at the certificate presentation at County Hall.
Notes to Editors
Port of Milford Haven
The Port of Milford Haven is the UK's top energy port and Wales' busiest port handling around 20% of Britain's seaborne trade in oil and gas.  It is widely recognised in the industry as the energy capital of the UK.
The Port, along with the cluster of energy-related businesses along the Waterway, is a key driver of economic activity in Pembrokeshire, attracting inward investment and supporting over 4,000 jobs.
The Port of Milford Haven also owns and operates Pembroke Port and Milford Dock.  Activities such as cargo handling, ferry operations, fish landing and cruise calls as well as a first class marina are spread across these two sites. 
One of the most prominent on the West Coast, the Port is in the heart of the Pembrokeshire Coast National Park, the only Coastal National Park in Great Britain. It is marked as a Special Area of Conservation (SAC) and has many areas designated as Sites of Special Scientific Interest (SSSI).
The Port of Milford Haven is a trust port – an independent, commercially run organisation that has statutory responsibilities governed by its Acts, to maintain and improve navigation and the provision of Port and Harbour services and facilities.  Additionally, the Port provides significant financial and in-kind support to a wide variety of local causes.  All profits are retained within the business to fund these objectives. 
For further information, visit www.mhpa.co.uk or contact:
Anna Malloy
Port of Milford Haven
01646 696100
anna.malloy@mhpa.co.uk