Milford Waterfront Restaurants Adapt Outdoor Dining Spaces
12/05/2021
---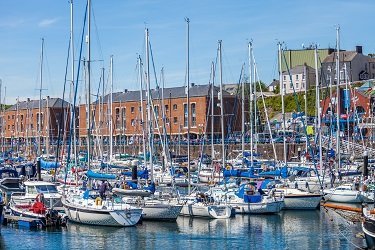 Milford Waterfront restaurants have adapted their outdoor dining spaces.
The adapted outdoor offering at Milford Waterfront includes a variety of options from multiple restaurants that have adapted their outdoor spaces for visitors. This includes a brand-new outdoor space at COCO's; the COCO's Sunset Bar, as well as a new cover over the Harbourmaster terrace and a new marquee at Martha's Vineyard.
Many businesses also offer outdoor dining including Foam's 'Glass Room', Costa Coffee, The Crow's Nest Café, Impasto Pizza Bar, Madison's Bar and Restaurant, Phoenix Bowl, Spinnaker Café, Sugar Loaf, Talouies, The Galley Café, The Green Genie, The Lounge and The Scoop Ice Cream Parlour.
Lucy Wonnacott, Marketing Manager for Milford Waterfront commented: "It has been a tough start to the year for restaurants and cafes. We are delighted to see outdoor dining in full swing here at Milford Waterfront and it is great to see so many businesses adapting their services to offer this. We are a tight knit community in Milford Haven, and I am sure many locals and visitors alike will be enjoying outdoor dining across the town. We're also looking forward to the fantastic cafes and restaurants being able to welcome guests back to dine indoors from Monday – it has been a long and challenging time for all business owners."
To find out more about what is at Milford Waterfront, check out the 'What's Here' page on the Milford Waterfront website at: www.milfordwaterfront.co.uk.
-Ends-
Photo: Restaurants at Milford Waterfront have adapted their outdoor dining spaces.
Notes to Editors
Milford Waterfront
Milford Waterfront is a multi-million pound regeneration project being led by the Port of Milford Haven. It aims to revitalise the marina and docks into a vibrant destination, adding to the existing mix of leisure, retail and dining businesses and boosting the economy by providing long term, sustainable jobs.
A number of flagship projects have already been completed at the site including the opening of four custom-built Floatel Cabins, which offer a restful retreat for visitors looking for a unique glamping experience.
The new development will also celebrate the arts, culture and heritage of the area, working in partnership with key stakeholders. The Port already hosts a busy calendar of events at Milford Waterfront such as its popular Summer Fest campaign that included the Fish Festival, Beer Festival and Street Food Festival in 2019. Children's activities and seasonal events such as fireworks displays and Santa visits also take place throughout the year, more information can be found on the What's On page.
In June 2018, Pembrokeshire County Council unanimously approved a revision to the Milford Waterfront development's outline planning consent.
For further information, visit www.milfordwaterfront.co.uk or contact:
Anna Malloy
Port of Milford Haven
01646 696100
anna.malloy@mhpa.co.uk