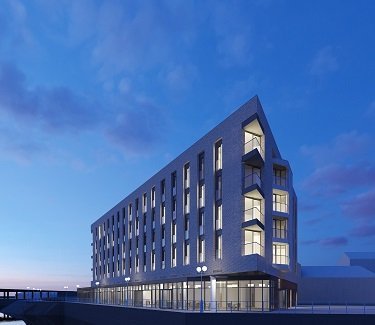 A 100-bedroom hotel being built as part of the Milford Waterfront development in Milford Haven will be managed and operated by the team responsible for the iconic Celtic Manor Resort, as part of its expanding Celtic Collection of properties.
Celtic Manor, which made global headlines when it staged the 2010 Ryder Cup and the 2014 NATO Summit, brings its knowledge and expertise to operating the new hotel in partnership with the Port of Milford Haven, the venue's owner.
Forming part of the Celtic Collection's new portfolio of Tŷ Hotels, the 46,000 sq ft property will be located at the entrance to Milford Waterfront on the Pembrokeshire Coast.
When it opens in 2022, the new hotel will feature four floors of bedroom accommodation and benefit from picture-postcard views across Milford Marina. A variety of bedroom types, including family rooms, make it the ideal base for purposeful travellers for both business and leisure.
Tŷ Hotel Milford Waterfront will also house a restaurant and bar, a private dining area, and an activity suite within the ground floor.
The hotel will provide a significant draw for new tourists to Milford Haven and Pembrokeshire, as part of a major redevelopment of the waterfront. Around 50 permanent jobs will be created in the hotel's operations with many more supported in the supply chain.
Chief Executive at the Port of Milford Haven, Andy Jones, said: "The new Tŷ Hotel is great news for Pembrokeshire and represents a watershed moment for Milford Waterfront. The Celtic Collection, with its international standing, shares our passion for the destination - with its fascinating history and stunning marina backdrop - and has joined us to tell a global audience that Milford Waterfront is a fantastic place to visit and to stay.
"An investment of this kind creates a ripple effect, building even greater positivity among local businesses and creating opportunities for jobs and long-term growth.  Despite lockdowns during the Covid pandemic, many Milford Waterfront businesses have continued to thrive and are looking forward to opening their doors again and welcoming families and foodies alike.
"We are a proud Pembrokeshire business and are delighted to be bringing this high quality investment to the area in partnership with The Celtic Collection.  It really does demonstrate to other investors that Pembrokeshire offers great opportunities for growth."
Construction work commenced in January and has been ongoing during the present lockdown with the hotel expected to be completed in time for opening in the Spring of 2022.
The Celtic Collection Chief Executive Ian Edwards said: "We are delighted to have been appointed to manage and operate this exciting new hotel in a spectacular waterfront location and we are excited to launch this partnership with the Port of Milford Haven.
"After such a difficult year for tourism and hospitality, it is fantastic to announce this positive news as we look forward to the sector reopening. We know this hotel is going to bring a welcome boost to the local economy and attract a lot of new visitors to Milford Haven.  
"This is a brilliant opportunity for The Celtic Collection to expand our horizons and bring our expertise in hotels and hospitality to Pembrokeshire, a region which is world-renowned as a tourist destination thanks to its spectacular coastline and landscape, and its welcoming people.
"We look forward to working with the community and with local suppliers and stakeholders to make a real success of this new hotel and drive more prosperity for the region."
Chair of Visit Pembrokeshire, Jane Rees-Baynes, said: "We, at Visit Pembrokeshire, are delighted to learn that the new operator of the Milford Waterfront hotel will be Tŷ Hotels, part of the Celtic Collection. The new hotel will not only bring a new accommodation offering to this part of Pembrokeshire, it will also bring additional employment opportunities in one of our key sectors.
"It builds on the fantastic work the Port of Milford Haven has been doing with Milford Waterfront - strengthening the offering both for locals and for visitors.  We look forward to working closely with the Port, Milford Waterfront and Tŷ Hotels to help deliver our vision of growing tourism in Pembrokeshire for the benefit of all."
For more information visit celtic-manor.com
-Ends -
Media Enquiries:
Paul Williams
PR Manager
The Celtic Collection
T:         +44 (0)1633 410288
M:        +44 (0)7920 058251
E:         paulwilliams@celtic-manor.com
About The Celtic Collection:
The Celtic Collection is a prestigious family of experience-focused UK business and leisure destinations. Born from the legacy of the world-renowned Celtic Manor Resort, the group's flagship destination situated in the beautiful Usk Valley at the gateway to South Wales, the Celtic Collection brings together premium accommodation with exemplary service and world-class facilities. Each of its resort and hotel venues is unique, with its own style and personality, but at the heart of every one is the quality and unparalleled experience associated with the iconic Celtic Manor Resort brand.
Celtic Manor Resort is one of Europe's finest destinations for luxury escapes, family breaks, golfing getaways and business events. Host venue for the 2010 Ryder Cup and the 2014 NATO Summit, the resort is set in more than 2,000 acres of panoramic parkland at the gateway to South Wales and has been voted the UK's Best Hotel at the Meetings & Incentive Travel Awards for eight of the last nine years.
The Celtic Collection includes the 330-room, five-star Resort Hotel, the historic 19th century Manor House with 70 rooms, the 148-room Coldra Court, the Newbridge on Usk country inn with six rooms, Tŷ Hotel Magor with 129 bedrooms and 10 luxurious Hunter Lodges.
In September 2019, The Celtic Collection opened the new International Convention Centre Wales (ICC Wales) in a joint venture partnership with Welsh Government. ICC Wales can hold more than 5,000 delegates at a time and includes a 4,000 sq m pillar-free main hall, a 1,500-seat auditorium and an additional 15 flexible meeting rooms.
In addition, the Collection includes a choice of eight restaurants, three championship golf courses, two exceptional spas and three health clubs, adventure golf, treetop high ropes course, fishing and tennis courts.


Timeline
1982               Original Celtic Manor Hotel (now the Manor House) opens with 17 bedrooms
1999               Resort Hotel opens with further 333 bedrooms, including 32 suite bedrooms
2005               Stages EU Foreign Ministers Summit
2010               Stages the Ryder Cup
2014               Hosts NATO Summit
2016               Acquires Hilton Newport and rebrands as Coldra Court Hotel by Celtic Manor
2019               Opens International Convention Centre Wales in joint venture partnership with Welsh Government
Launches new Tŷ Hotel brand with the purchase of the former Hampton by Hilton at Magor
Recent Awards
2011-14,
2016-2020     Voted Best UK Hotel, Meetings & Incentive Travel Awards
2019               Ranked No 1 family-friendly hotel by the AA
2017               Resort Head Chef Simon Crockford wins National Chef of Wales title
2015-16                     Named Ultimate Golf Resort, 59Club Awards
2015               Voted Europe's Best Golf Hotel, World Golf Awards
Chief Executive Ian Edwards named Hotelier of the Year at European Hospitality
Awards
Voted Best UK Hotel Spa, Best UK Spa Manager and Best UK Spa for Groups,
Spa Traveller Awards
About Milford Waterfront:
Milford Waterfront is a multi-million pound regeneration project being led by the Port of Milford Haven. It aims to revitalise the marina and docks into a vibrant destination, adding to the existing mix of leisure, retail and dining businesses and boosting the economy by providing long term, sustainable jobs.
A number of flagship projects have already been completed at the site including the opening of four custom-built Floatel Cabins, which offer a restful retreat for visitors looking for a unique glamping experience.
The new development will also celebrate the arts, culture and heritage of the area, working in partnership with key stakeholders. The Port already hosts a busy calendar of events at Milford Waterfront such as its popular Summer Fest campaign that included the Fish Festival, Beer Festival and Street Food Festival in 2019. Children's activities and seasonal events such as fireworks displays and Santa visits also take place throughout the year.
In June 2018, Pembrokeshire County Council unanimously approved a revision to the Milford Waterfront development's outline planning consent.