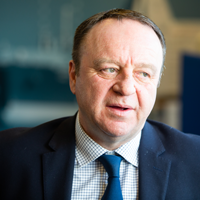 Steve Phillips
Non-Executive Director
Steve brings significant financial and commercial experience to the Port, not only from his current role as Group Chief Executive (previously Group Finance Director) of the Welsh Rugby Union, but from his previous experience with the regional airport owners TBI. He has an extensive risk management background which, together with his mergers and acquisitions experience, will help guide the Group through its ambitious diversification strategy. Also, his experience in overseeing major capital expenditure projects will be crucial in helping us deliver on our exciting expansion programmes for Milford Waterfront.
Biography
Steve Phillips joined the Port of Milford Haven Board on 1st March 2018.
Interim Group Chief Executive (previously Group Finance Director) at the Welsh Rugby Union, Steve will bring 25 years' of commercial expertise to the role. During his time at the WRU, financial performance has significantly improved and a major capital expenditure programme has been undertaken including a new National Centre of Excellence training facility at the Vale Resort, as well as various upgrades to the Principality Stadium.
Steve's background was previously within the airports industry at TBI plc. where he worked on projects covering Sweden, Costa Rica and the United States. Steve is currently in a number of non-executive director positions including British & Irish Lions Limited and Six Nations Limited.