Annual Report 2021: Our Operations
THE PORT AUTHORITY
Despite a stronger performance towards the end of the year, shipping movements at the Port felt the impact of Covid-19 on the UK economy.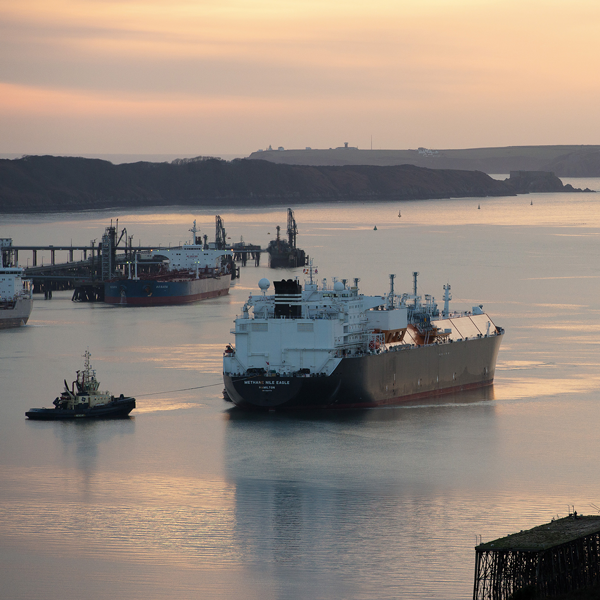 By the second year of the pandemic we had well-founded systems in place to manage Covid-19 controls with a relative degree of predictability in many areas of our business. Our marine team worked hard to maintain the expected levels of service. We were the first non-public sector organisation to participate in the Welsh Government's Pathfinder programme for workplace Covid-19 testing which we trialled and then implemented for our colleagues where social distancing was more difficult to maintain. Operational conditions remained challenging. We worked closely with Public Health Wales, Pembrokeshire County Council and associated operational stakeholders to maintain safeguards and ensure shipping continued to move smoothly, and safely, throughout.
Every three years we reconfirm to the Maritime and Coastguard Agency (MCA) our compliance with the Port Marine Safety Code. As part of our commitment, we annually agree a safety plan and are required to report on success in achieving objectives. 55 actions were identified in 2021 for the marine division, with a 98.2% completion target rate achieved. We appointed an external company to carry out a comprehensive audit and were delighted to be able to inform the MCA that the Port is fully compliant and joins other compliant ports around the UK on a list posted by the Government. We are proud to again be compliant with this voluntary code.
Following an engagement process with key stakeholders including Svitzer, Williams Shipping and the RNLI, we also developed revised towage guidelines in 2021.
We have a statutory duty to ensure safe navigation and protect the environment within port limits and this is a key focus of our operations which run 24 hours a day, throughout the year. 2021 saw a drop in commercial shipping movements, however an unprecedented level of recreational boating activity, partly due to the ongoing impact of Covid-19, meant even greater vigilance was required to keep river users safe and ships moving freely. For instance, when the river is busy, potential issues can arise when leisure users, unfamiliar with the twice daily Irish Ferry service, pass through the channel and impede its passage. This issue featured, among others, in our second ever Safety Digest, published in 2021. The document, which is available on our website, provides a very useful review of reported leisure boating incidents where subsequent investigations revealed relevant lessons for other users. We also carried out a five yearly update of our Recreation Management Plan, which is also available on our website.
2021 saw the replacement of the Isle of Inishmore with a new vessel, Blue Star 1. The ferry is by far the largest and most regular visitor to the Waterway that does not carry a Port of Milford Haven Pilot onboard. This enables it to move in and out of the port on a tight schedule. Before the new service could operate as normal in the Waterway, the ship's Masters were required to make several 'trips' with our Pilots and sit an exam which gives them a Pilotage Exemption Certificate.
We continued to invest in front line equipment, both to maintain resilience in our operations and upgrade and improve safety and navigational equipment:
We have invested in a state-of-the-art communications suite upgrade for our VHF radio system to ensure continued safety on the Waterway.

Upgrades are ongoing on the microwave communication links between Port Control and shore stations along the Waterway.

Work is progressing well with our new Pilot Boat project with the appointment of specialist naval architects to support us through the procurement process.

A new fire escape has been installed at Port Control.
PORT SERVICES

Pembroke Port
It was a quieter than normal year for our dry bulk and general cargo handling operation, Pembroke Port. One delivery of note came early in the year, when the 1.650T 'Little Celeste' crane was loaded off a ship onto the quayside. The behemoth was delivered in pieces and taken by road to its intended destination at Valero Pembroke Refinery where it was pieced together and used to install new depropaniser and settler units.
Pembroke Dock Ferry Terminal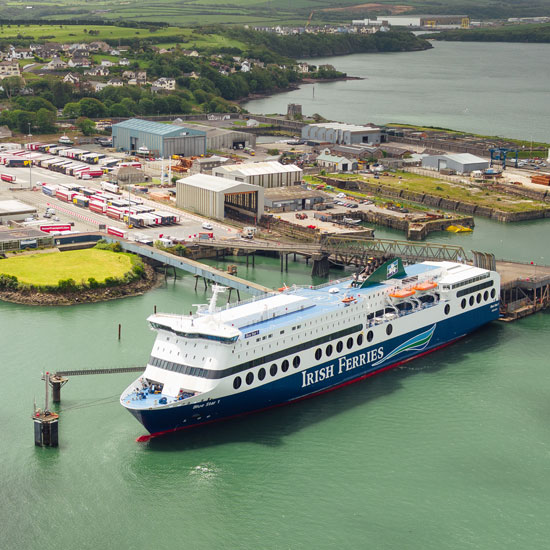 The resilience our team showed in 2020, maintaining the efficient rhythm of one of Wales' crucial Ro-Ro trade arteries amid very challenging conditions, was evident again as the pandemic continued into 2021. Critical projects such as the adaptation work at the ferry terminal in preparation for Irish Ferries' new vessel 'Blue Star 1', meant project teams and engineers had to complete on site work under Covid-19 restrictions. The hard work and commitment they showed throughout was rewarded with the signing of a new ten-year contract with Irish Ferries.
Despite the positive news that Irish Ferries is continuing to invest in the land bridge to Europe, the knock-on effects of Brexit crystallised fully during 2021. However, the Port was by no means passive in meeting the challenges and we worked successfully with HMRC to negotiate a bespoke border operating model for Pembroke Dock Ferry Terminal which provides a competitive advantage to our Terminal and its customers.
Works to address post-Brexit operational needs were completed with funding support from the UK Government Port Infrastructure Fund. The changes included the implementation of a new traffic management scheme, with new road markings and dedicated transit lane, and a larger security gatehouse which enhances onsite security and can accommodate multi-agency presence. The completed work helps maximise the safety and security of our staff and customers and enhances traffic and cargo flow post-Brexit.
Milford Fish Docks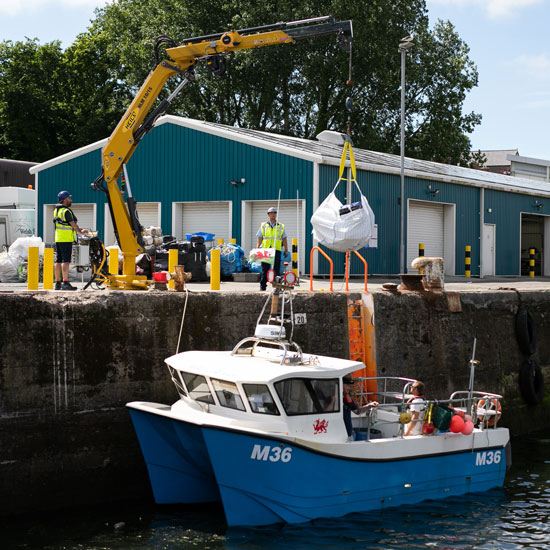 Any uncertainty in the first year following the UK's departure from the EU was most visible at Milford Fish Docks where landings fell by 85%. While fishing vessels were still visiting the Port, and operating off Welsh shores, Europe-based quota owners were offloading their catches in Belgium and Ireland due to increasing complexity with UK landings. However, Belgian agents have expressed confidence that once delays have been resolved at UK ports, transporting their catch by road from Milford Haven to European markets (the route via Tilbury Docks has been undergoing trials) will be preferable, allowing them to continue using Milford Fish Docks for landing. We have taken part in multi-agency discussions to identify ways to reduce delays – with Port Health occupying offices at Milford Fish Docks to further smooth the process.
Brexit also hit inshore (below 10m) vessels who were selling shellfish into European markets and whelks to Asian markets. We remain confident that, despite current uncertainty, volumes will return to normal, and we will continue to invest in facilities on the quayside. There is also an optimistic view that local fleets may grow again for the first time in many years.
We completed work (started in 2020) to enhance the facilities at Milford Fish Docks, which included the upgrade of ladders, fendering and shoreside welfare facilities, including a mobile pump out unit for the fishing fleets – along with purchase and installation of a new quayside marine crane with a lifting capacity of up to 1 ton to help the fishing fleets land their catch and load bait safely. These investments received funding through the European Maritime & Fisheries Fund (EMFF), which is funded by the European Union and the Welsh Government.
Renewables Developments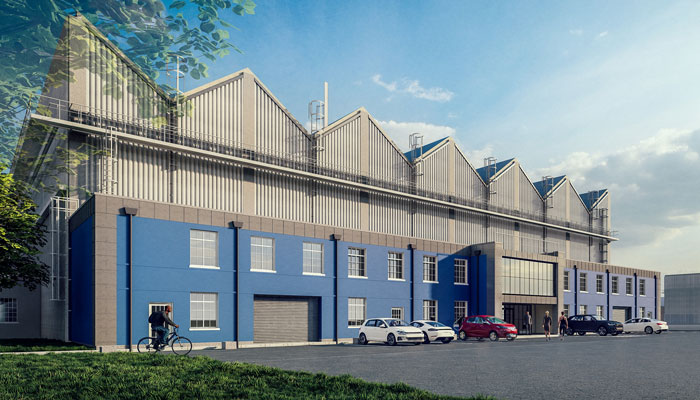 2021 was a breakthrough year for the developments at Pembroke Port (part of the Pembroke Dock Marine project) with planning secured and works commencing. Builders started the first phase of the development, renovating the four Grade II listed Hangar Annexes attached to the historic Sunderland Hangars at Pembroke Port to create workspaces and a workshop. Work on this initial element is expected to be complete by November. Additional works to improve the Port's spaces and facilities, including the slipway expansion, will commence in 2022. These works to improve Pembroke Port's infrastructure – the Hangar Annex and Access Infrastructure projects - have been part-funded by the European Regional Development Fund through the Welsh Government. They have also been part-funded by Swansea Bay City Deal through UK and Welsh Government and by the Port of Milford Haven.
Once complete, these facilities sit alongside a suite of offers from our partners creating a renewable energy and engineering centre of excellence to support commercialisation of new technologies. The Pembroke Dock Marine project is creating the right conditions to stimulate business growth and attract inward investment. This is estimated to create around 1,800 jobs for the region over the next 15 years. The recent growth of floating offshore wind firms winning leases to install demonstration arrays off the Pembrokeshire coast raises the challenge. We need to continue to expand our offer to capture as much of that sector's investment as possible here on the Waterway and bring maximum benefit to the local economy.
Our collaborative project Milford Haven: Energy Kingdom (MH:EK) made great progress in 2021 with some exciting early outcomes drawing wide attention. The project is funded by the UK Government Industrial Strategy Challenge Fund, Prospering from the Energy Revolution Programme, administrated by Innovate UK. In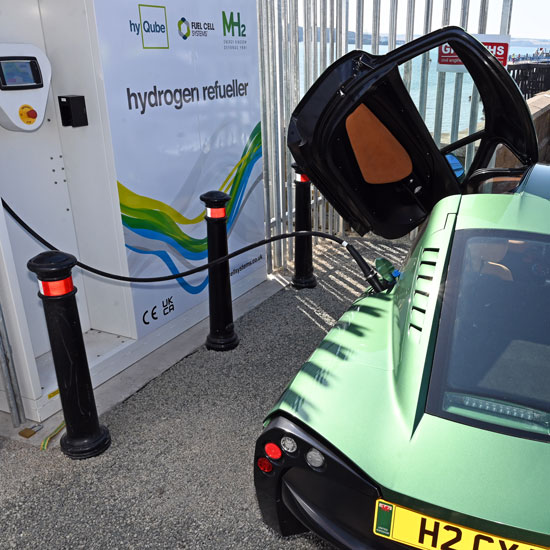 October, the MH:EK project partners launched the Hydrogen Refueller demonstrator, a high-tech installation at Milford Waterfront that delivers clean gas, created from electrolysis, for hydrogen fuel cell electric vehicles (HFCEV). The launch saw the hydrogen car manufacturer Riversimple (one of the MH:EK partners) deliver their Rasa car that will be trialled in Milford Haven during the pioneering project. Part of the project saw the installation and trial of a world-first smart hydrogen hybrid heating system at one of our offices. This system can run on either renewable electricity or hydrogen, with smart controls switching between the two sources of energy based on the energy generation mix and availability of renewable electricity on the local grid. Both projects were an opportunity to show stakeholders what the Milford Haven Waterway could deliver as a hydrogen hub for the UK. Projects such as the refueller and hybrid heating system are only demonstrators at this stage, but the project's purpose is to show what is already possible as well as evaluating their future as investable propositions. To achieve Net Zero targets, we must deliver net zero power, transport and heat and there are huge opportunities here in the UK's largest energy port for us to collaborate on the development of the hydrogen sector and to take a national lead in renewable technology.

Decisions around making our operations sustainable are helped by the rapid progress of electric vehicles (EVs) and other technologies, as well as the rising cost of conventional energy sources. Having replaced much of our fleet of vehicles with EVs, we are also working to make the Waterfront an EV friendly destination, linking up with Pembrokeshire County Council to install rapid and fast chargers there.
Making our buildings more energy efficient is an equally sensible and sustainable investment and to that end we added external insulated cladding to the headquarters at Gorsewood Drive and rolled out smart metering which will help us monitor energy usage and plan future efficiencies.
HOSPITALITY AND TOURISM
Milford Waterfront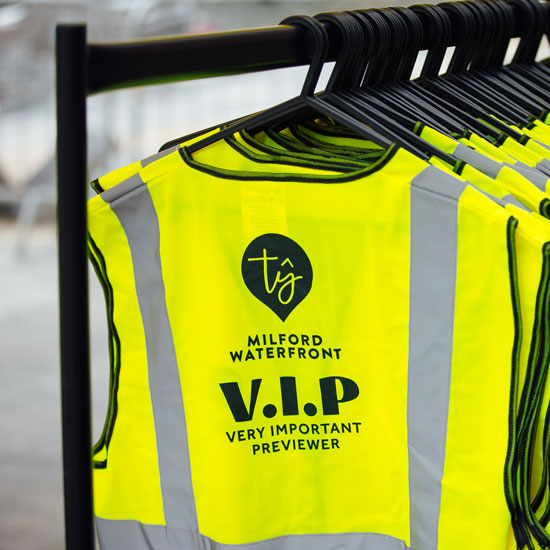 The transformation of Milford Waterfront, which had been unfolding relatively organically for the last few years, accelerated in 2021 with the construction of a new 100 bed hotel. It took just one year for the structure to take its final shape and we were delighted to announce in March 2021 that The Celtic Collection, the team behind the Celtic Manor Resort, would be operating the new hotel under their Tŷ Hotels brand. We look forward to further collaboration with the team at The Celtic Collection in the coming years.
This exciting partnership brings an internationally respected hospitality business into the heart of Pembrokeshire. It is a very positive sign and comes as the tourism industry in Pembrokeshire develops ever greater confidence. We have developed a good working relationship with Visit Pembrokeshire and have committed to be one of the Strategic Partners for the new Destination Management Organisation in 2022. We have also continued to strengthen our relationship with Pembrokeshire County Council and are grateful for their support and confidence in our strategy for Milford Waterfront.
2021 was certainly a game of two halves when it came to footfall at Milford Waterfront. Trading for shops, cafes and restaurants was marred by pandemic-related restrictions for several months, but the eventual relaxation of rules for outdoor hospitality created an explosion of activity. Innovative ideas from local businesses helped bring a continental feel to Milford Waterfront.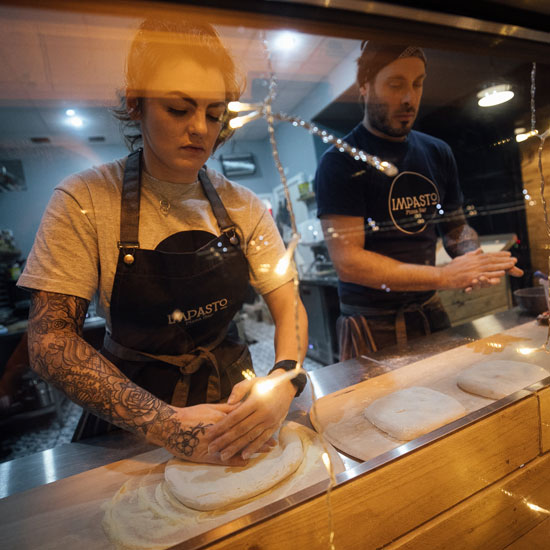 By late summer we were able to welcome back some popular events. The Milford Haven Round Table's Beer Festival, which was a great success, and the Torch Theatre Sunset Cinema screening, where NHS and care workers were given free tickets in recognition of their service during the pandemic. We were also delighted to welcome back the Milford Haven Round Table's Fireworks Extravaganza.
Despite all the challenges, we were deeply impressed by the resilience and camaraderie shown by local businesses at Milford Waterfront. Not only did they continue to invest, adapt and reimagine their businesses to keep visitors safe and cope with the downturn, they showed a positivity and community spirit that will only serve to make the area even more special in years to come. We even welcomed new businesses last year, including graze box company The Cheesy Cow, Dilly's Chocolates and The Cheeky Sheep, a shop selling unique handmade creations and artwork.
Our own hospitality offerings, the Shores holiday apartment, and the Floatel Cabins, enjoyed a staycation boost with near 100% occupancy in peak season. We also launched 3 new heritage walking trails around Milford Waterfront in a collaborative project between Milford Youth Matters and Milford Haven School, with funding from The National Lottery Heritage Fund. The project saw Milford Youth Matters working with the pupils from Milford Haven School to develop walking trails that tell the stories of Milford Haven's history, celebrating the town's three sense of place pillars: Historic Haven, Energy Kingdom and Water Ways.
Milford Marina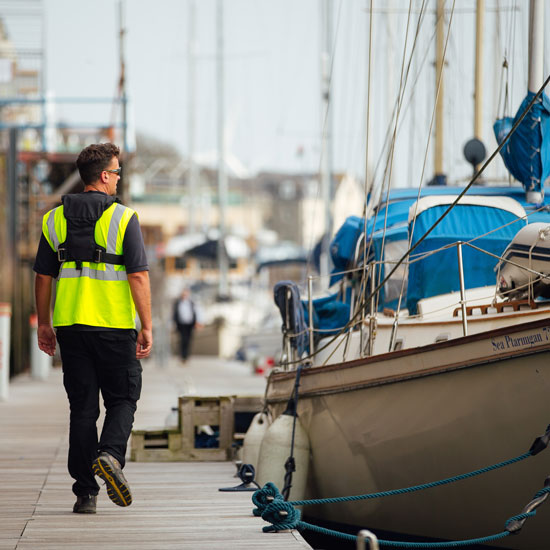 It was Milford Marina's 30th anniversary in 2021, an important milestone that was marked with muted celebration due to Covid-19 restrictions. To celebrate, we gathered stories from local people and berth holders, past and present, to help capture the rich history of the development, and traced the origins of each of the buildings around the marina.
The marina achieved 100% occupancy for the first time, and there is now a waiting list for berths. A record number of 'liveaboards' have added an extra sense of community to Milford Waterfront. The increase in numbers of younger people making boats their homes and commuting as far as Cardiff perhaps reflects a wider trend for lifestyle-led decisions being made in the wake of the pandemic.
Lower user numbers due to Covid-19 restrictions combined with a reduction in spaces available for day visitors due to the take up of long-term berths meant we saw a drop in ancillary sales of marine fuel and gas. The evidence of growing demand for berths supports our long-term plan to increase the number of berths in the marina.
Investment in our facilities continued in 2021 with the purchase of a new 20 tonne boat hoist, which is expected to be fully operational in time for the 2022 leisure season. 
INVESTMENT PORTFOLIO
Although most of our tenants in the retail and hospitality sectors were under less pressure from Covid-19 restrictions than in 2020, it was important that we remained as supportive of them as possible throughout 2021.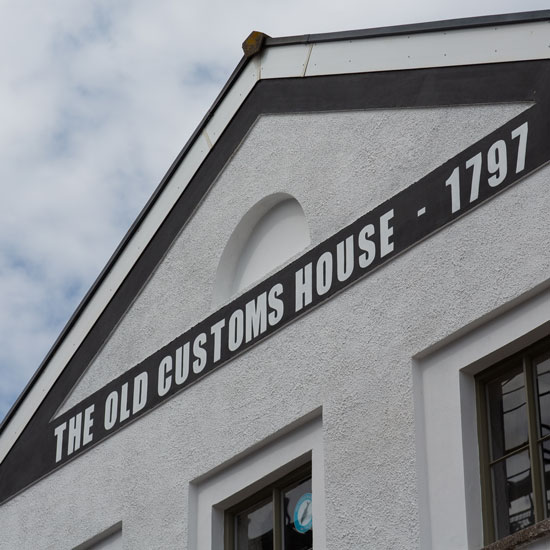 2021 proved tough for many national retailers. The company behind Peacocks, the clothing store with an outlet in Havens Head Retail Park, began the year in administration. A subsequent buy-out in April indicated a more certain future and we have now agreed heads of terms with the group that has taken over the business.
We continue to work with retailers and potential new clients to make sure the Retail Park serves the local community.
In addition to the heritage renovations taking place in Pembroke Port as part of the Pembroke Dock Marine project, we have also invested in enhancements to some of the heritage buildings around the Waterfront. New lime rendering on the Milford Haven Museum and the Sail Loft (home to Coco's and the Waterfront Gallery amongst others) was carried out during the year. Work of this nature helps ensure our buildings maintain visual impact and help maximise their longevity.