2018 Annual Report: Our Environment
Our focus is to manage and reduce our operational impact on the Milford Haven Waterway and to make a positive contribution to global decarbonisation efforts.
Decarbonisation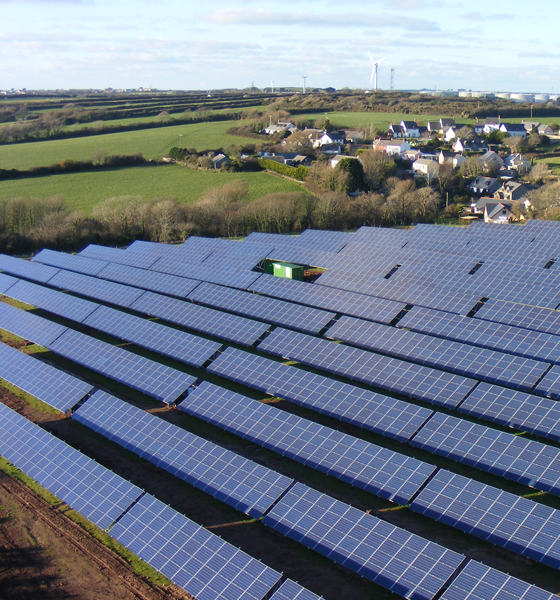 We fully recognise the contribution made by anthropogenic greenhouse gas emissions to global climate change. As such, we seek to reduce our emissions and respond to the need to decarbonise the economy. It is why we invested heavily in renewable energy generation on our estate.
2018 photovoltaic generation totals:
Building mounted solar panels: increase of 11% to 772 MWh
Liddeston Ridge solar array: increase of 13% to 5,187 MWh
This green energy generation supplied to business and the grid is equivalent to 1,686.81 tonnes of CO2, 3.93 tonnes of methane and 9.12 tonnes of nitrogen dioxide for the same amount of energy generated using fossil fuels. This CO2e is offset against our emissions that include fuel and energy use and is calculated to total 6,182tCO2.
Oil spill training and live incident
There were nine recorded oil pollution incidents reported during the course of 2018. Three were reports of minor, non-attributable blooms which we were able to break-up with the prop wash of the boat we sent to investigate; one was the remobilisation of historical ground contamination at Llanreath, two were foundered small vessels, and three were caused by equipment failure or damage at terminal jetties. Of these nine, the only one involving sustained clean-up effort was a spill of an unconfirmed quantity of heavy fuel oil during December. We provided on-water tracking and clean-up, and participated fully in the multi-agency response to the incident.
The ability to respond swiftly, efficiently and effectively to any pollution incident is a priority for us and we train and exercise accordingly.
Clean seas pledge
2018 saw a major increase in activity in Wales to grapple with the problem of plastic pollution, systemic in the global economy and environment. We are a member of the Wales Clean Seas Partnership which will implement the first Marine Litter Action Plan for Wales. Our commitment to reduce the plastic waste reaching the sea was encapsulated by signing the Wales Clean Seas Pledge in early summer 2018.
We remain committed to waste reduction and reduction in plastic use, but also to recovery of marine litter where possible. From the pilot launches removing items of flotsam from the Waterway, to the provision of free disposal facilities for marine litter picked up by leisure and fishing vessels, we do what we can to tackle part of the wider issue of plastic pollution.
Atrina fragilis
A notable occurrence in 2018 was the rediscovery in the Waterway of a species which had not been observed here for more than 40 years. The fan mussel, Atrina fragilis, is one of Britain's largest and most threatened molluscs, growing up to 48cm long, and dwelling partially buried in soft sediment. As the name implies, its delicate shell means it is susceptible to physical damage as well as to pollution. The individual was discovered during Natural Resources Wales' routine and regular dive survey work to assess the health of the seagrass beds within the Waterway, and the presence of Atrina fragilis after such a long period unrecorded is encouraging.
Environmental Surveillance Group: Celebrating 25 years
One of our most long-running and successful collaborations is the Milford Haven Waterway Environmental Surveillance Group (MHWESG), a scientific research collective of which we are a proud and active member. This summer, it reached its 25-year anniversary of tackling environmental management and the environmental changes brought about by climate change.
This organisation brings together statutory bodies and industry, all of whom contribute financially to commission scientific survey work in the Waterway to our mutual benefit. This activity makes the Milford Haven Waterway one of the best-studied estuaries in Europe, and provides a robust, scientific basis for planning, decision-making and environmentally sound operation within the Waterway. Of particular value are some long-term studies the Group has been able to accomplish, providing deep understanding of the fates and long-term behaviours of hydrocarbon and metal pollutants in the estuary system, and the pressures faced by the ecosystem through the indicator species shelduck.
For more information on the MHWESG, please see the Group's own Annual Report. The member organisations are: Port of Milford Haven, Valero Pembroke Refinery, South Hook LNG, Dragon LNG, Valero Pembrokeshire Oil Terminal, RWE Power, Puma, Natural Resources Wales, Pembrokeshire County Council and Pembrokeshire Coast National Park Authority.