A Pilot's Perspective
05/12/2018
---
As featured in the Port's newsletter, OnBoard, December 2016.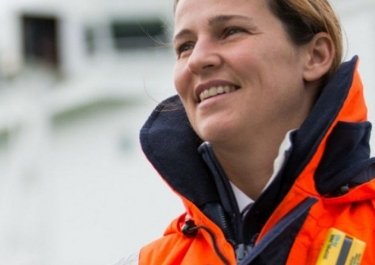 The world of shipping is not exactly over run by women. Meet the pilot who takes some skippers by surprise.
"When you make your way onto the bridge and walk in the door there can be a bit of a moment," explained Gillian Robinson. "You get some guys looking over your shoulder," she added, raising one eyebrow. Who or what a crew might be looking for when pilot Gillian boards their ship, you have to decide for yourself because Gillian doesn't say anymore.
This little anecdote sums her up well. Gillian is heavily outnumbered in the maritime world. When it comes to woman pilots, she believes there are only five operating in the UK of a total of just 14 in the world. But Gillian just walks on past this observation because, quite simply, it warrants no more thought.
Gillian was born and raised in St David's. Surrounded on three sides by the sea, she was reared with more than a little salt in her blood. Her great grandfather was a coxswain on the lifeboats and her father followed in his footsteps. She, too, joined the RNLI at 17. Her dad was also a chief engineer on the tugs operating in Milford Haven. That was how his adventurous daughter fell in love with big ships.
"We used to come and see Dad at work," recalled Gillian. "It was brilliant - I loved it! I remember all the ladders on the boats, running up and down and exploring this exciting world."
She didn't know it at the time but a seed was sown. Gillian finished school and went travelling. "I didn't really know what I wanted to do. But then Dad said 'Have you ever thought about going to sea?'"
By this time, Gillian's brother had joined the merchant navy and was sending back postcards from all sorts of exotic places. That was enough for Gillian and she headed to Warsash College.
"Coming to the idea so late, I remember sitting there on the first day at college and looking around at all these other students who looked so focused", remembered Gillian. But any sign of Imposter Syndrome soon evaporated.
Having qualified, she began a career in merchant shipping, working on ships across the world. One day she spotted an advert calling for trainee pilots at the Port of Milford Haven in Wales. "It was a job on big ships and it was based in Pembrokeshire. It ticked all the boxes."
Gillian got the job in 2015 and is already a Class 5 pilot, scaling ladders and taking control of ships up to 30,000 dwt (deadweight tonnage is the weight a ship can carry). She is quite obviously in her element. "Ship handling is the buzz, it's the best part," she explained. "I just want to park ships all day and go home!"
Gillian's professional training will continue for at least five and a half years. "The training is a lot harder than I expected. There are so many jobs you have to do, different ships to learn about. And you have to learn to cope with delays. Plans are always changing."
Still living close to St David's, married with a four-year old son, Gillian is happy to be rooted firmly in Pembrokeshire. "When you have kids you don't want to miss seeing them grow up," she said. "We have a little Drascombe Lugger that we like to go out on as a family. We took our son out when he was only months old so the next generation is getting started early."
So, is the Milford Haven pilot, trusted by skippers from around the world, given the helm of the lugger? "Oh no! That's my husband's pride and joy. He won't let me drive his boat," she laughed.
Please click to find out more about joining the Port as a pilot.