Torch Theatre's Sunset Cinema Returns to Milford Waterfront
02/08/2022
---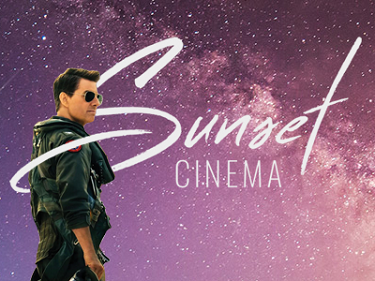 This 19th August the Torch Theatre's Sunset Cinema returns to Milford Waterfront, a vibrant holiday destination in Pembrokeshire, to showcase Top Gun: Maverick (12A), the new sequel to the iconic movie, Top Gun.
Located at Mackerel Quay, gates will open from 7pm with the film starting when light levels allow. Local businesses including Cheesy Cow and The Scoop Ice Cream Parlour will be open and available to purchase sweet and savoury treats for the viewing.
Lucy Wonnacott, Marketing Manager for Milford Waterfront said: "It is so great to be welcoming Sunset Cinema back to Milford Waterfront! We have collaborated with the Torch Theatre on these events a number of times, and it is always so exciting to offer a unique experience, watching the big screen with the Milford Haven Waterway at Milford Marina as the backdrop. We look forward to seeing you all there."
Benjamin Lloyd, Executive Director for the Torch Theatre said: "We are thrilled to be partnering again with Milford Waterfront to bring the Arts to our community and deliver an exciting and innovative experience in our iconic home setting."
You can book your tickets in advance online on the Torch's website or call the box office on 01646 695267. Alternatively, you can buy tickets on the door subject to availability. We recommend securing your tickets in advance to avoid disappointment. Full T&Cs can be found on the Torch Theatre's website.
For more information about what's on at Milford Waterfront, please go to: https://www.milfordwaterfront.co.uk/whats-on.
-Ends-
Photo: Top Gun: Maverick (12A) will be playing at Milford Waterfront on Mackerel Quay.
Notes to Editors
Milford Waterfront
Milford Waterfront is a multi-million pound regeneration project being led by the Port of Milford Haven. It aims to continue to develop the area which is home to Milford Marina and Milford Fish Docks into a vibrant destination, adding to the existing mix of leisure, retail and dining businesses and boosting the economy by providing long term, sustainable jobs.
A number of flagship projects have already been completed at the site including the opening of four custom-built Floatel Cabins, which offer a restful retreat for visitors looking for a unique glamping experience. And in April 2022 the new 100 bedroom Tŷ Hotel operated by the Celtic Collection opened and we hope more visitors will stay and experience all of the new and existing attractions here at Pembrokeshire's hidden gem.
The development will also celebrate the arts, culture and heritage of the area, working in partnership with key stakeholders. The Port already hosts a busy calendar of events at Milford Waterfront working with partners including Milford Haven Round Table to deliver events including Milford Haven Carnival, Milford Haven Beer Festival and Milford Haven Fireworks Display, as well as  other food and cultural festivals. More information can be found on the What's On page.
For further information, visit www.milfordwaterfront.co.uk or contact:
Anna Malloy
Port of Milford Haven
01646 696100
anna.malloy@mhpa.co.uk