Port sponsors summer sailing programme for Pembrokeshire pupils
25/07/2022
---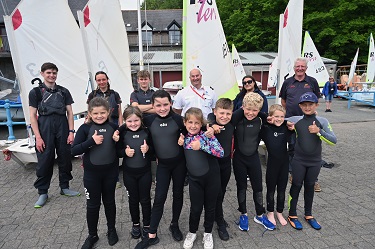 Pupils from three Pembrokeshire primary schools have been learning to sail following sponsorship from the Port of Milford Haven.
The Pembrokeshire Performance Sailing Academy (PPSA), based at Llanion Cove in Pembroke Dock, has been supported by the Port to deliver a six week programme to thirty-two students from St Florence School, Gelliswick School and Narberth School.
The children worked towards gaining their RYA Youth Sailing Scheme Stage 1 certificates, with six returning students from St Florence working towards their Stage 4 certificates in crewed dinghies.
This is the second year the Port has supported the PPSA to deliver water-based training to schools in the county following a successful programme in 2021 which saw twenty-four students gain qualifications and new-found confidence.
Richard Owens, Chief Instructor from the PPSA, said "Once again, it's been fabulous to be able to introduce children from Pembrokeshire to the skills and fun that sailing can bring. The pupils have developed a host of skills, including building confidence, decision making, communication and independence whilst in a healthy, clean and exciting environment. They have skills that will stand them in good stead as they move forward. We hope to see them return in the future or continue sailing in local sailing clubs and on the race circuit, or just having fun in sailboats."
Community Engagement Officer at the Port, Hollie Phillips, commented "It's been great to see so many school pupils enjoying the water and learning important skills that will help them to stay safe when they go afloat. We're always keen to encourage young people to access the Milford Haven Waterway so this is a fantastic introduction to what's on offer on their doorstep."
For more information about the courses that the PPSA delivers visit www.ppsa.co.uk
-Ends-
Photo caption: Brian Macfarlane and Hollie Phillips from the Port of Milford Haven with the team from the PPSA and pupils from Gelliswick, St Florence and Narberth schools who all received sailing certificates.
Notes to Editors
Port of Milford Haven
The Port of Milford Haven is the UK's top energy port and Wales' busiest port handling around 20% of Britain's seaborne trade in oil and gas.  It is widely recognised in the industry as the energy capital of the UK.
The Port, along with the cluster of energy-related businesses along the Waterway, is a key driver of economic activity in Pembrokeshire, attracting inward investment and supporting over 4,000 jobs.
The Port of Milford Haven also owns and operates Pembroke Port and Milford Dock.  Activities such as cargo handling, ferry operations, fish landing and cruise calls as well as a first class marina are spread across these two sites. 
One of the most prominent on the West Coast, the Port is in the heart of the Pembrokeshire Coast National Park, the only Coastal National Park in Great Britain. It is marked as a Special Area of Conservation (SAC) and has many areas designated as Sites of Special Scientific Interest (SSSI).
The Port of Milford Haven is a trust port – an independent, commercially run organisation that has statutory responsibilities governed by its Acts, to maintain and improve navigation and the provision of Port and Harbour services and facilities.  Additionally, the Port provides significant financial and in-kind support to a wide variety of local causes.  All profits are retained within the business to fund these objectives. 
For further information, visit www.mhpa.co.uk or contact:
Anna Malloy
Port of Milford Haven
01646 696100
anna.malloy@mhpa.co.uk