Another summer of fun for 'Under The Bridge'
13/09/2021
---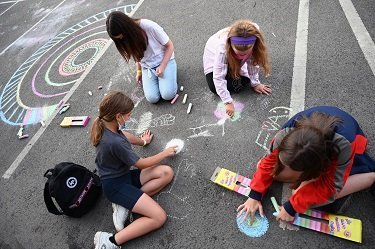 Under the Bridge made a welcome return to Milford Waterfront this summer giving young people the opportunity to enjoy fun and creative activities in a safe environment.
The award-winning Friday night project offered young people the chance to try chalk art, dance, football, graffiti art, circus skills and inflatable games resulting in an attendance of more than 140 people during the six weeks. A collaboration project between the Port of Milford Haven and Milford Youth Matters, Under The Bridge was part-funded by Milford Haven Town Council enabling a total of nine events to take place over the Whitsun and summer holidays.
Dayle Gibby, Milford Youth Matters Co-ordinator commented: "It has been fantastic to see the return of Under the Bridge in 2021, after having to run the project online last year due to Covid-19. Each night we had a range of activities for young people to try new things and enjoy themselves. Under The Bridge has gone from strength to strength and has had a lasting impact on young people in Milford Haven. I am extremely grateful for the Port of Milford Haven's commitment to young people, Milford Haven Town Council and all those who supported Under the Bridge this year. We are already working hard to secure funding for 2022, building on the success and learning from this summer's events."
The Milford Youth Matters Ambassadors added: "We are so happy that Under The Bridge has been enjoyed by so many, each session went extremely well. All the activities we planned and had on offer were popular and we were pleased to be able to work with so many from our community including young people and local businesses."
Lauren Williams, Community Engagement Assistant for the Port of Milford Haven said: "Our partnership with Milford Youth Matters has resulted in a hugely successful community project that over 140 young people from the area have enjoyed. It has given them opportunities to try out activities that they may not have otherwise had access to and many have learnt new skills this summer. It's been a great collaborative effort from all involved."
-Ends-
Photo caption: Chalk art at Under The Bridge this summer
Notes to Editors
Port of Milford Haven
The Port of Milford Haven is the UK's top energy port and Wales' busiest port handling around 20% of Britain's seaborne trade in oil and gas. It is widely recognised in the industry as the energy capital of the UK.
The Port, along with the cluster of energy-related businesses along the Waterway, is a key driver of economic activity in Pembrokeshire, attracting inward investment and supporting over 4,000 jobs.
The Port of Milford Haven also owns and operates Pembroke Port and Milford Dock. Activities such as cargo handling, ferry operations, fish landing and cruise calls as well as a first class marina are spread across these two sites.
One of the most prominent on the West Coast, the Port is in the heart of the Pembrokeshire Coast National Park, the only Coastal National Park in Great Britain. It is marked as a Special Area of Conservation (SAC) and has many areas designated as Sites of Special Scientific Interest (SSSI).
The Port of Milford Haven is a trust port – an independent, commercially run organisation that has statutory responsibilities governed by its Acts, to maintain and improve navigation and the provision of Port and Harbour services and facilities. Additionally, the Port provides significant financial and in-kind support to a wide variety of local causes. All profits are retained within the business to fund these objectives.
For further information, visit www.mhpa.co.uk or contact:
Anna Malloy
Port of Milford Haven
01646 696100
anna.malloy@mhpa.co.uk