New walking trails to be enjoyed at Milford Waterfront
02/07/2021
---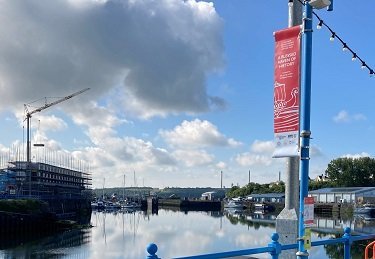 Visitors to Milford Waterfront can now enjoy 3 new heritage walking trails thanks to a collaborative project between Milford Youth Matters and Milford Haven School with support from the Port of Milford Haven and funding from The National Lottery Heritage Fund. The project saw Milford Youth Matters working with the pupils from Milford Haven School to develop walking trails that tell the stories of Milford Haven's history.
Learners at Milford Haven School were given a brief to create stories based on Milford Haven's sense of place themes: Historic Haven, Energy Kingdom and Water Ways. They then researched and wrote stories about Milford Haven and designed colourful artwork to accompany them. From over 60 entries in total, 12 entries were further developed and are featured at Milford Waterfront and online.
Visitors to Milford Waterfront will be able to follow the 3 walking trails at Milford Waterfront by scanning QR codes which are located on bilingual signs on lampposts around the Marina. This will take them to the website where they can read the full story.

Dayle Gibby, Milford Youth Matters Co-ordinator commented: "This was a great project to work on with Milford Haven School and The Port of Milford Haven. The young people were all really enthusiastic about creating images and writing about our town's history, and I am really pleased to see it being incorporated into walking trails around the area. Thank you to the National Lottery Heritage Fund for funding this project."
Lucy Wonnacott, Milford Waterfront Marketing Manager added: "We are really excited to have supported Milford Youth Matters to develop these walking trails for the local community and visitors. The pupils from Milford Haven School have done a fantastic job and I've enjoyed all of the stories. Milford Haven has such a rich history and we love bringing the sense of place which is uniquely Milford Haven to life at Milford Waterfront. A big thank you to Milford Haven School and Milford Youth Matters for creating these walking trails and stories."
As well as the new heritage walking trails created as part of this project, Milford Haven offers a huge range of walking routes, for all abilities. With everything from views of the historic Milford Haven Waterway from The Rath, to strolls around Milford Waterfront to look at the boats in Milford Marina, heritage walking trails, and access to woodland walks, beaches, the Pembrokeshire Coast Path and cycle friendly routes.
You can find out more about walking in Milford Haven here: https://www.milfordwaterfront.co.uk/whats-here/walking-in-milford-haven.
-Ends-
Photo: The walking trails can be followed by scanning the QR codes bilingual signs located on lamppost banners around the Marina.
Notes to Editors
Milford Waterfront
Milford Waterfront is a multi-million pound regeneration project being led by the Port of Milford Haven. It aims to revitalise the marina and docks into a vibrant destination, adding to the existing mix of leisure, retail and dining businesses and boosting the economy by providing long term, sustainable jobs.
A number of flagship projects have already been completed at the site including the opening of four custom-built Floatel Cabins, which offer a restful retreat for visitors looking for a unique glamping experience.
The new development will also celebrate the arts, culture and heritage of the area, working in partnership with key stakeholders. The Port already hosts a busy calendar of events at Milford Waterfront such as its popular Summer Fest campaign that included the Fish Festival, Beer Festival and Street Food Festival in 2019. Children's activities and seasonal events such as fireworks displays and Santa visits also take place throughout the year, more information can be found on the What's On page.
In June 2018, Pembrokeshire County Council unanimously approved a revision to the Milford Waterfront development's outline planning consent.
For further information, visit www.milfordwaterfront.co.uk or contact:
Anna Malloy
Port of Milford Haven
01646 696100
anna.malloy@mhpa.co.uk