Sandy Bear Children's Bereavement Charity named Port of Milford Haven's Charitable Cause of the Year
20/01/2021
---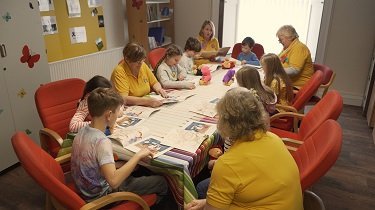 Staff at the Port of Milford Haven have chosen Sandy Bear Children's Bereavement Charity to be their official charitable cause of the year throughout 2021. Each year employees vote for a Pembrokeshire-based charity to receive both financial and in-kind support for twelve months.
Sandy Bear Children's Bereavement Charity was established in 1996 following an identified need for a child bereavement service in the county to support young people up to the age of 18 who have suffered, or who are likely to suffer, a bereavement, as well as their families.
Ceri Crichton, Charity Development Lead for Sandy Bear is delighted with the news, commenting "We want to thank the team at the Port of Milford Haven for voting for Sandy Bear and the children and young people that we support. Through this partnership, we will be able to make a positive difference to their lives following a significant bereavement. We very much look forward to our partnership and working with the Port team. It will be an exciting year!"
Lauren Williams, Community Engagement Assistant at the Port, will be working closely with the charity over the coming year. She said, "Sandy Bear provides such an important service to those affected by bereavement, so we're really pleased that we'll be able to help them, whether that's financially or through fundraising and volunteering activities."
Last year, Get The Boys A Lift, a mental health charity based in Haverfordwest, received over £16,000 from the Port as a result of donations and a range of fundraising activities including a challenge to run, walk, row or cycle 6,140 nautical miles – the same distance that an LNG ship travels from Qatar to Milford Haven.
For more details on Sandy Bear Children's Bereavement Charity please visit www.sandybear.co.uk
-Ends-
Photo caption: Sandy Bear Children's Bereavement Charity provides group sessions for children who have been bereaved.
Notes to Editors
Port of Milford Haven
The Port of Milford Haven is the UK's top energy port and Wales' busiest port handling around 20% of Britain's seaborne trade in oil and gas.  It is widely recognised in the industry as the energy capital of the UK.
The Port, along with the cluster of energy-related businesses along the Waterway, is a key driver of economic activity in Pembrokeshire, attracting inward investment and supporting over 4,000 jobs.
The Port of Milford Haven also owns and operates Pembroke Port and Milford Dock.  Activities such as cargo handling, ferry operations, fish landing and cruise calls as well as a first class marina are spread across these two sites. 
One of the most prominent on the West Coast, the Port is in the heart of the Pembrokeshire Coast National Park, the only Coastal National Park in Great Britain. It is marked as a Special Area of Conservation (SAC) and has many areas designated as Sites of Special Scientific Interest (SSSI).
The Port of Milford Haven is a trust port – an independent, commercially run organisation that has statutory responsibilities governed by its Acts, to maintain and improve navigation and the provision of Port and Harbour services and facilities.  Additionally, the Port provides significant financial and in-kind support to a wide variety of local causes.  All profits are retained within the business to fund these objectives. 
About Sandy Bear Children's Bereavement Charity
Sandy Bear is a not-for-profit charity dedicated to improving and strengthening the emotional health and well-being of young people aged 0-18 (and their families), who have experienced the death of a loved one.
We aim to reduce emotional difficulties in childhood and the prevalence of mental illness in later life that can result in a decreased quality of life, poorer educational attainment, social and health problems and increased vulnerability.
We achieve this by working closely with children, young people and families to support them through their grief, and by educating relevant professionals to know what to do when they are dealing with bereavement.
For further information, visit www.mhpa.co.uk or contact:
Anna Malloy
Port of Milford Haven
01646 696100