Port submits planning application to prepare site for major £60m marine renewable energy development
18/12/2020
---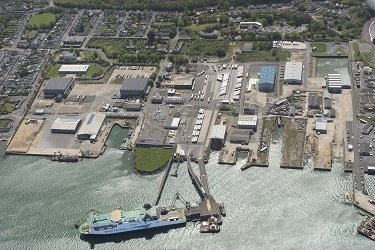 A planning application has recently been submitted by the Port of Milford Haven seeking approval for works to begin at Pembroke Port which will create the infrastructure needed to support the development of a world-class renewable energy and engineering hub, promoting economic growth and creating jobs and prosperity across south west Wales. 
The marine energy opportunity off Pembrokeshire's coastline is world-class. The industry is already creating skilled, year-round employment in Pembrokeshire, taking advantage of the area's natural wind, wave and tidal resource and its experienced and highly regarded supply chain. But the creation of a modern port facility will be critical to attracting and retaining this fast-growing industry, as well as other blue growth sectors. 
"This is an important milestone in the project and after more than four years in development we are eager to move forward and continue to fulfil our role as a Trust Port by creating the foundations on which communities and businesses can thrive", said Andy Jones, CEO at the Port of Milford Haven. 
"This transformational development will play an important role in the region's post-covid economic recovery as well as making a positive contribution to Wales & UK net zero decarbonisation targets", Andy continued.
"These works are an integral part of the wider Pembroke Dock Marine project and we have every confidence that the development will create a more attractive operating environment for inward investors and for local businesses, creating year-round, highly- skilled, well paid jobs for our communities". 
The Pembroke Dock Infrastructure project has been part-funded by the European Regional Development Fund through the Welsh Government, together with private investment by the Port of Milford Haven.  The works also form part of the wider £60m Swansea Bay City Deal funded Pembroke Dock Marine project. 
If approved, work is expected to commence in 2021 with anticipated completion of the immediate works by 2025. For more details visit www.mhpa.co.uk/pembroke-port-developments 

-END- 

Photo: Pembroke Port – A centre of excellence for marine renewable engineering 
Notes to Editors 
Port of Milford Haven 
The Port of Milford Haven is the UK's top energy port and Wales' busiest port handling around 20% of Britain's seaborne trade in oil and gas.  It is widely recognised in the industry as the energy capital of the UK. 
The Port, along with the cluster of energy-related businesses along the Waterway, is a key driver of economic activity in Pembrokeshire, attracting inward investment and supporting over 4,000 jobs. 
The Port of Milford Haven also owns and operates Pembroke Port and Milford Dock.  Activities such as cargo handling, ferry operations, fish landing and cruise calls as well as a first class marina are spread across these two sites.  
One of the most prominent on the West Coast, the Port is in the heart of the Pembrokeshire Coast National Park, the only Coastal National Park in Great Britain. It is marked as a Special Area of Conservation (SAC) and has many areas designated as Sites of Special Scientific Interest (SSSI). 
The Port of Milford Haven is a trust port – an independent, commercially run organisation that has statutory responsibilities governed by its Acts, to maintain and improve navigation and the provision of Port and Harbour services and facilities. 
Additionally, the Port provides significant financial and in-kind support to a wide variety of local causes.  All profits are retained within the business to fund these objectives.  
Pembroke Dock Marine 
Pembroke Dock Marine will be a world-class marine energy and engineering centre of excellence for design, test, build and deployment of marine energy devices, with potential for use by other industries. It will expand upon the region's established facilities and extensive skill base to maximise operational efficiency and increase innovation to drive down the cost of marine energy – an industry projected to be worth £76bn by 2050.  
The project will embed a new, clean industry into the region creating jobs and skills development for today's, and future generations.   
It includes four principal elements:  
Marine Energy and Engineering Centre of Excellence – a knowledge and innovation centre. This will be developed in Pembroke Port by ORE Catapult.

 

Pembroke Dock Infrastructure – development of industry-ready fabrication and deployment infrastructure. This will be developed in Pembroke Port by us (scroll down for more information).

 

Marine Energy Test Area - consented test areas on the waterway for components and scaled devices. To be delivered in key waterway sites by Marine Energy Wales.

 

Pembrokeshire Demonstration Zone - consenting of the 90km2 leased site for commercial deployment of 180MW capacity for full scale wave and floating wind energy arrays. This will be delivered by Wave Hub Limited.

 

The Port of Milford Haven is responsible for the delivery of changes to infrastructure at Pembroke Port. This will ensure developers can maximise operational efficiency and benefit from enhanced land to sea interface enabling the industry to fully mature onsite. The works include: 
demolition of some existing structures in Gate 4 to create open laydown areas

 

the construction of a supersize slipway

 

new workboat berthing

 

development of some of the Port's heritage buildings into office spaces

 

construction of a light assembly and maintenance building.

 
Swansea Bay City Deal 
The Swansea Bay City Deal is a £1.3 billion investment in a portfolio of major programmes and projects across the Swansea Bay City Region. Funded by the UK Government, the Welsh Government, the public sector and the private sector, the Swansea Bay City Deal is being led by Carmarthenshire County Council, Neath Port Talbot Council, Pembrokeshire Council and Swansea Council, in partnership with Swansea University, the University of Wales Trinity Saint David, Swansea Bay University Health Board and Hywel Dda University Health Board.  
For further information, visit www.mhpa.co.uk or contact: 
Anna Malloy 
Port of Milford Haven 
01646 696100 
anna.malloy@mhpa.co.uk