Port's Scholarship Scheme opens for Pembrokeshire's university students
01/09/2020
---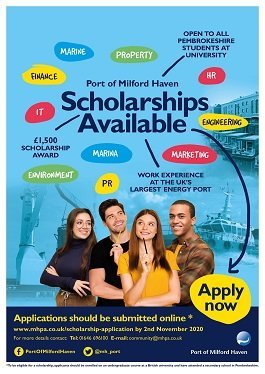 University students from Pembrokeshire are being encouraged to apply to the Port of Milford Haven's scholarship scheme, which has been officially launched today.
The annual initiative offers undergraduate students the chance to apply for an award of £1,500, as well as a work placement at the UK's largest energy port. To be eligible, applicants must have spent the majority of their secondary education in Pembrokeshire and be enrolled on an undergraduate course at a British university.
Sitting on the judging panel this year are Chris Martin, Chair of the Port of Milford Haven; Maxine Thomas, Designated Senior Lead for Safeguarding and Learner Wellbeing at Pembrokeshire College and Jane Harries, Headteacher at Haverfordwest High VC School. Interviews will take place with the shortlisted applicants in December.
Over seventy undergraduates have been awarded scholarships by the Port in a wide range of subjects since the scheme was launched in 2003 including engineering, nutrition, law and history.
Chris Martin, Chair at the Port, is looking forward to receiving this year's applications:
"I am delighted to be part of the panel again. The standard of applications that we receive is consistently high, so much so that we awarded five scholarships instead of the usual four last year! In addition to the financial support that's provided, we find that the placement offers huge benefits as the students are based in a real working environment assigned to meaningful projects that will hold them in good stead for the future."
For more information and to submit an application please visit www.mhpa.co.uk/scholarships
-ENDS-
Photo caption: Scholarship poster
Notes to Editors
Port of Milford Haven
The Port of Milford Haven is the UK's top energy port and Wales' busiest port handling around 20% of Britain's seaborne trade in oil and gas.  It is widely recognised in the industry as the energy capital of the UK.
The Port, along with the cluster of energy-related businesses along the Waterway, is a key driver of economic activity in Pembrokeshire, attracting inward investment and supporting over 4,000 jobs.
The Port of Milford Haven also owns and operates Pembroke Port and Milford Dock.  Activities such as cargo handling, ferry operations, fish landing and cruise calls as well as a first class marina are spread across these two sites. 
One of the most prominent on the West Coast, the Port is in the heart of the Pembrokeshire Coast National Park, the only Coastal National Park in Great Britain. It is marked as a Special Area of Conservation (SAC) and has many areas designated as Sites of Special Scientific Interest (SSSI).
The Port of Milford Haven is a trust port – an independent, commercially run organisation that has statutory responsibilities governed by its Acts, to maintain and improve navigation and the provision of Port and Harbour services and facilities.  Additionally, the Port provides significant financial and in-kind support to a wide variety of local causes.  All profits are retained within the business to fund these objectives. 
For further information, visit www.mhpa.co.uk or contact:
Anna Malloy
Port of Milford Haven
01646 696100
anna.malloy@mhpa.co.uk