Port welcomes new tenant Greenaway Scott
29/01/2020
---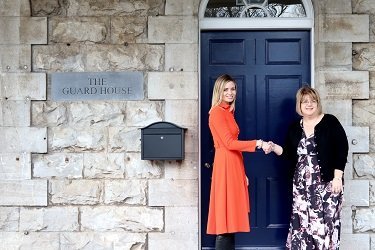 A business law firm has opened its doors in a Grade II listed building in Pembroke Dock owned by the Port of Milford Haven.
Greenaway Scott has expanded into Pembrokeshire having already established successful branches in Cardiff, Bristol and Oxford. The firm specialises in the provision of legal services to companies in the areas of Corporate Law, Commercial Contracts, Intellectual Property, Employment and Commercial Property.
Leanne Thomas, Corporate Director, has worked closely with the Port to open for business in The Guardhouse which is located just outside Pembroke Port. She chose the site as it has excellent parking facilities, is easy to access and is within close proximity of the town's abundance of interesting businesses.
Leanne commented "We are delighted to have opened a new office in Pembroke Dock and are keen to meet and engage with local businesses who previously would have needed to travel to Cardiff or perhaps further afield to find the commercial business advisory services that the GS Verde Group offers."
She added, "Staff at the Port have been wonderful from start to finish. Nothing has been too much trouble and they've made the transition a very easy one for us. We are excited to be here during a period of economic growth which is being supported by the Port – it's a great time for Pembroke Dock."
Property and Legal Manager at the Port Melanie Jenkins, said "We are pleased to welcome Greenaway Scott to Pembrokeshire. We have worked with the team to ensure the premises suit their needs and it's great to see an historic building being utilised for a 21st century business".
For information on the Port's available properties please visit Quayside Properties' website quayside.properties or call 01646 696380.
Greenaway Scott is part of the multi-discipline GS Verde Group which includes corporate finance firm Verde CF and corporate law firm Greenaway Scott. For more information please contact Leanne Thomas, Director- Corporate/ Head of Pembroke & West on 02920 403451 or LThomas@greenawayscott.com
-Ends-
Photo caption: Leanne Thomas from Greenaway Scott and Melanie Jenkins from the Port of Milford Haven outside the new premises
Notes to Editors
Port of Milford Haven
The Port of Milford Haven is the UK's top energy port and Wales' busiest port handling around 20% of Britain's seaborne trade in oil and gas. It is widely recognised in the industry as the energy capital of the UK.
The Port, along with the cluster of energy-related businesses along the Waterway, is a key driver of economic activity in Pembrokeshire, attracting inward investment and supporting over 4,000 jobs.
The Port of Milford Haven also owns and operates Pembroke Port and Milford Dock. Activities such as cargo handling, ferry operations, fish landing and cruise calls as well as a first class marina are spread across these two sites.
One of the most prominent on the West Coast, the Port is in the heart of the Pembrokeshire Coast National Park, the only Coastal National Park in Great Britain. It is marked as a Special Area of Conservation (SAC) and has many areas designated as Sites of Special Scientific Interest (SSSI).
The Port of Milford Haven is a trust port – an independent, commercially run organisation that has statutory responsibilities governed by its Acts, to maintain and improve navigation and the provision of Port and Harbour services and facilities. Additionally, the Port provides significant financial and in-kind support to a wide variety of local causes. All profits are retained within the business to fund these objectives.
For further information, visit www.mhpa.co.uk or contact:
Anna Malloy
Port of Milford Haven
01646 696100
anna.malloy@mhpa.co.uk