Plans submitted for a 100-bed hotel and multi-use conference and events venue at Milford Waterfront
18/12/2019
---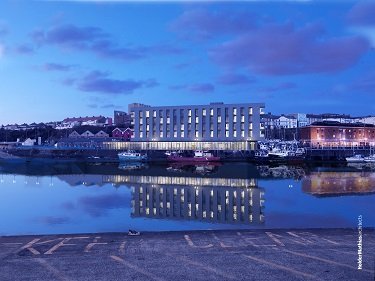 Significant plans have been revealed by the Port of Milford Haven for the build of a hotel and separate conference and events venue at Milford Waterfront in Milford Haven, following the submission of formal planning applications to Pembrokeshire County Council today (18th December).
The two planning applications come shortly after the Port received approval of outline planning for its multi-million-pound Milford Waterfront development last month. Together, the developments will make a major contribution to the economic prosperity of the area with around fifty jobs created, including several apprenticeship opportunities.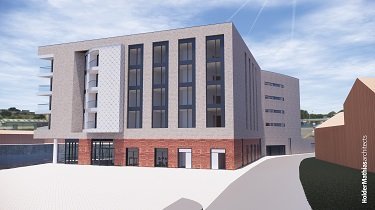 The 40,000 sq. ft 100-bedroom hotel will be located towards the entrance to Milford Waterfront on the site of the disused Burnyeats building; which will be demolished. The hotel will feature a mix of standard and family rooms spread over five floors with postcard views across Milford Marina as well as a restaurant and bar with a private dining area, some meeting rooms and a small gym for guests to use during their stay.
Opposite the entrance to Milford Waterfront, the Quay Stores building, which was originally constructed in around 1885 and is grade II listed, is in line for a major face-lift. Stunning designs that make use of the building's many original features depict a multi-purpose conference and events venue capable of accommodating over 300 people at a formal banquet. The facility will be able to host a variety of events including conferences, exhibitions, concerts and weddings.
If approved, both projects will follow similar development timescales with work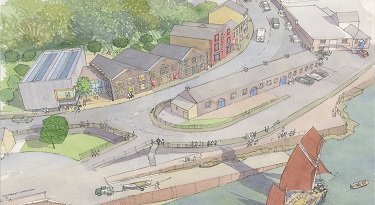 due to commence in late spring 2020 and be completed by summer 2021.
Commenting on the planning applications, Chief Executive at the Port of Milford Haven Andy Jones said:
"This year has been a significant one for Milford Waterfront – new shops have opened, others have expanded; luxury Floatel Cabins have arrived; boat trips have been operating and thousands of visitors have enjoyed a plethora of fun events. Milford Waterfront is already a great place to live, work and play and is recognised internationally as one of the leading investment opportunities in Wales.
"And now we are ready to move forward with the next two exciting developments which are significant investments but ones which we know will be huge assets for the town and the wider region, creating more opportunities for people to enjoy living and working in Milford Haven and drawing in greater numbers of people to stay and enjoy what's on offer.
"We look forward to hearing Pembrokeshire County Council's decision in the spring."
For more details on what is currently available at Milford Waterfront please visit www.milfordwaterfront.co.uk
-Ends-
Photo 1: A planning application has been submitted for a 100-bed hotel at Milford Waterfront
Photo 2: The proposed 100-bed hotel will be built on the site of the current disused Burnyeats building
Photo 3: An artist's impression of the new multi-use conference and events venue
Notes to Editors
Port of Milford Haven
The Port of Milford Haven is the UK's top energy port and Wales' busiest port handling around 20% of Britain's seaborne trade in oil and gas. It is widely recognised in the industry as the energy capital of the UK.
The Port, along with the cluster of energy-related businesses along the Waterway, is a key driver of economic activity in Pembrokeshire, attracting inward investment and supporting over 4,000 jobs.
The Port of Milford Haven also owns and operates Pembroke Port and Milford Dock. Activities such as cargo handling, ferry operations, fish landing and cruise calls as well as a first class marina are spread across these two sites.
One of the most prominent on the West Coast, the Port is in the heart of the Pembrokeshire Coast National Park, the only Coastal National Park in Great Britain. It is marked as a Special Area of Conservation (SAC) and has many areas designated as Sites of Special Scientific Interest (SSSI).
The Port of Milford Haven is a trust port – an independent, commercially run organisation that has statutory responsibilities governed by its Acts, to maintain and improve navigation and the provision of Port and Harbour services and facilities. Additionally, the Port provides significant financial and in-kind support to a wide variety of local causes. All profits are retained within the business to fund these objectives.
For further information, visit www.mhpa.co.uk or contact:
Anna Malloy
Port of Milford Haven
01646 696100
anna.malloy@mhpa.co.uk