Milford Waterfront's annual children's Christmas card design competition open for entries
20/11/2019
---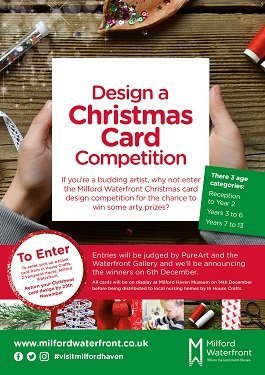 Milford Waterfront is running a free Christmas card design competition for the second year running in collaboration with In House Crafts. The competition is open to local school children of all ages, and arty prizes are on offer for the winners of each age category.
The cards will be on display at Milford Waterfront's Sparkle with Santa event on the 14th December, and then gifted to a local nursing home to wish the residents a Merry Christmas.
The project hopes to encourage creativity and community spirit in the lead up to Christmas. Anyone wanting to enter can collect a blank card from In House Crafts, 2 Vanguard House, Milford Waterfront, and the deadline for returning entries is Friday 29th November. The winners for each category will be selected by guest judges from PureArt and the Waterfront Gallery.
Natalie Hunt, Activity and Events Co-ordinator for Milford Waterfront commented: "We are really pleased to be doing the Christmas card competition again. It was brilliant to see everyone's submissions last year and we are all excited to see what is entered this year. We are really pleased that In House Crafts will once again be donating these to a local nursing home to spread the Christmas cheer."
-Ends-
Photo: The competition is open to all school children in the local area.
Notes to Editors
Milford Waterfront
Milford Waterfront is a multi-million pound regeneration project being led by the Port of Milford Haven. It aims to revitalise the marina and docks into a vibrant destination, adding to the existing mix of leisure, retail and dining businesses and boosting the economy by providing long term, sustainable jobs.
A number of flagship projects have already been completed at the site including the opening of four custom-built Floatel Cabins, which offer a restful retreat for visitors looking for a unique glamping experience.
The new development will also celebrate the arts, culture and heritage of the area, working in partnership with key stakeholders. The Port already hosts a busy calendar of events at Milford Waterfront such as its popular Summer Fest campaign that included the Fish Festival, Beer Festival and Street Food Festival in 2019. Visitors can also enjoy a boat trip with Discover Coast and Cleddau, which offers wildlife trips both out to Skomer and up the Cleddau River. Children's activities and seasonal events such as fireworks displays and Santa visits also take place throughout the year, more information can be found on the What's On page.
In June 2018, Pembrokeshire County Council unanimously approved a revision to the Milford Waterfront development's outline planning consent.
For further information, visit www.milfordwaterfront.co.uk or contact:
Anna Malloy
Port of Milford Haven
01646 696100
anna.malloy@mhpa.co.uk