Scholarship students complete placements at Port of Milford Haven
29/07/2019
---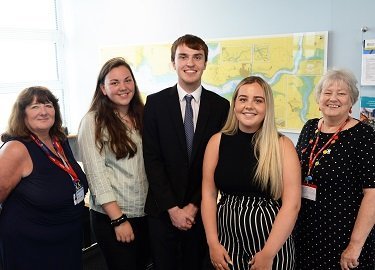 Four students who won a Port of Milford Haven Scholarship have recently completed their summer placements at the Port.
Katrin Watkin-Rees, Jannah Kehoe, Isobel Coombe and Matthew Dawes were successful in winning a Scholarship from the Port following a highly competitive selection process.
Over 50 hopeful Pembrokeshire students applied for the Scholarship and eight candidates selected for interview by a panel of judges. Judges - Chris Martin, Chairman at the Port of Milford Haven; Maxine Thomas, Senior Lead Safeguarding and Learner Wellbeing; and Pat James, Chair of Governors at Milford Haven School - quizzed candidates about their academic achievements, extra-curricular activities and future ambitions and selected four winners who each received £1,500 and a three week work placement at the Port in an area of their choice.
Katrin, from Dale, is studying Medicine at Newcastle University and was placed with the HR team; Jannah, from Haverfordwest, is studying Marine Biology at the University of Southampton and spent time with the Environment team; Isobel, from Milford Haven, is studying Politics and International Relations and was placed with the PR team; and Matthew, from Haverfordwest, is studying Chemical Engineering at the University of Bath and completed his placement within the Engineering department.
During their time at the Port each student was given a specific project to work on. These were then presented to senior managers and the scholarship panel.
Isobel Coombe, who spent her three weeks placement in the Stakeholder Engagement and Communications department commented: "This scholarship placement has been so beneficial in giving me a great idea for the type of career I would love to have in the future. The level of work and experience I have had from the 3 weeks I have been here has been incredible and something I'm not sure I would have had the chance to have experienced somewhere else. I am so thankful for the opportunity and the skills that it has given me for the future."
Jannah Kehoe, who worked with the Special Area of Conservation Officer, said: "When I won the scholarship I was over the moon. I'd done the theory at uni but it was a chance to put it all together in the context of work in a professional environment. The scholarship has been an opportunity to work on a project in a department that I'm really interested in; to get a feel for the kind of career I could pursue when I graduate; to meet contacts in my field and to come away from it feeling like I've actually made a valuable contribution. The staff have all been amazing, so helpful and supportive, and I'd definitely recommend the placement to anyone who's looking for some worthwhile experience to supplement their studies."

The 2019/20 Scholarship Scheme will be launched towards the end of September and University students from Pembrokeshire are encouraged to apply. For further information and to read about previous winners please visit www.mhpa.co.uk/scholarships
-Ends-
Photo caption: [left - right] Maxine Thomas, Jannah Kehoe, Matthew Dawes, Isobel Coombe and Pat James.

Notes to Editors
Port of Milford Haven
The Port of Milford Haven is the UK's top energy port and Wales' busiest port handling around 20% of Britain's seaborne trade in oil and gas. It is widely recognised in the industry as the energy capital of the UK.
The Port, along with the cluster of energy-related businesses along the Waterway, is a key driver of economic activity in Pembrokeshire, attracting inward investment and supporting over 4,000 jobs.
The Port of Milford Haven also owns and operates Pembroke Port and Milford Dock. Activities such as cargo handling, ferry operations, fish landing and cruise calls as well as a first class marina are spread across these two sites.
One of the most prominent on the West Coast, the Port is in the heart of the Pembrokeshire Coast National Park, the only Coastal National Park in Great Britain. It is marked as a Special Area of Conservation (SAC) and has many areas designated as Sites of Special Scientific Interest (SSSI).
The Port of Milford Haven is a trust port – an independent, commercially run organisation that has statutory responsibilities governed by its Acts, to maintain and improve navigation and the provision of Port and Harbour services and facilities. Additionally, the Port provides significant financial and in-kind support to a wide variety of local causes. All profits are retained within the business to fund these objectives.
For further information, visit www.mhpa.co.uk or contact:
Anna Malloy
Port of Milford Haven
01646 696100
anna.malloy@mhpa.co.uk