Marina lock gates improved following storm damage
24/04/2019
---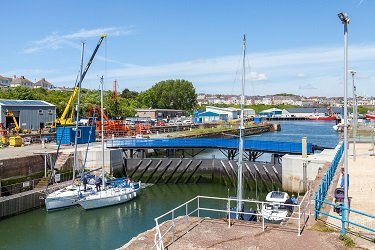 The Port of Milford Haven has completed a series of further improvements to its lock gates at the entrance to Milford Marina creating a more flexible and faster access arrangement for its marina and dock customers.
In 2014 an additional set of mitre gates, known as the Samson Gates, were installed at the site which provided quicker and more frequent access, as well as additional support, for the existing gates. As part of a 2018 programme of maintenance, alterations have been carried out on these gates resulting in a much smoother and more efficient operation.
Marina customers will remember one of the sets of mitre lock gates sustaining damage during the extreme weather conditions during Storm Ophelia. A major recovery system was immediately put in place to ensure minimal disruption to customers, with a temporary drive system installed. Since then, the Port has been working collaboratively with Royal Haskoning and Pressure Design - commissioning them to undertake a detailed study and to design a more modern and robust system.

The upgraded operating system has shortened the lock time to five minutes and enabled the lock gates to operate 24/7 with the tide. Also, both sets of gates now allow pedestrians to cross during most states of the tide; the only time the crossing isn't available is during 'freeflow'. This is operated by a traffic light system.
Melanie Durney, Marina and Docks Manager, commented: "We recognise the impact that this had on our customers, and are grateful for their patience. The damage we sustained from Storm Ophelia was unforeseen, but we have used this event to undertake further improvement works. We are proud to be able to offer a more flexible and extended locking programme, and improve the experience for our marina and dock customers."
-Ends-
Photo caption: Samson Lock Gates in use.

Notes to Editors
Port of Milford Haven
The Port of Milford Haven is the UK's top energy port and Wales' busiest port handling around 20% of Britain's seaborne trade in oil and gas. It is widely recognised in the industry as the energy capital of the UK.
The Port, along with the cluster of energy-related businesses along the Waterway, is a key driver of economic activity in Pembrokeshire, attracting inward investment and supporting over 4,000 jobs.
The Port of Milford Haven also owns and operates Pembroke Port and Milford Dock. Activities such as cargo handling, ferry operations, fish landing and cruise calls as well as a first class marina are spread across these two sites.
One of the most prominent on the West Coast, the Port is in the heart of the Pembrokeshire Coast National Park, the only Coastal National Park in Great Britain. It is marked as a Special Area of Conservation (SAC) and has many areas designated as Sites of Special Scientific Interest (SSSI).
The Port of Milford Haven is a trust port – an independent, commercially run organisation that has statutory responsibilities governed by its Acts, to maintain and improve navigation and the provision of Port and Harbour services and facilities. Additionally, the Port provides significant financial and in-kind support to a wide variety of local causes. All profits are retained within the business to fund these objectives.
For further information, visit www.mhpa.co.uk or contact:
Anna Malloy
Port of Milford Haven
01646 696100
anna.malloy@mhpa.co.uk