Port of Milford Haven funds community projects across Pembrokeshire throughout 2018
07/01/2019
---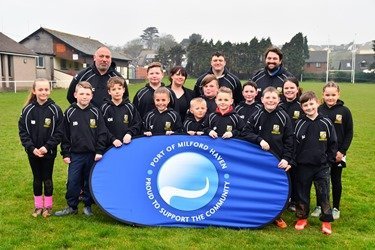 During 2018, over seventy five local charities and groups have benefitted from donations from the Port of Milford Haven through its community fund. The Port's Charity of the Year, Mind Pembrokeshire, has also received funding throughout the year both directly from the Port and additionally from fundraising activity undertaken by its staff.
Each year the Port sets aside a budget to support charities, voluntary organisations, community groups and social enterprises. This year, there has been a focus on projects which improve education and skills, as well as arts and culture. Supported groups include Penhryn School who received funding for equipment to support students, Pembroke Dock Harlequins RFC who received funding towards a new kit for their Under 9's team to take part in the first ever Ospreys Challenge, a time banking project in Mount Estate, and Wisemans Bridge Rowing Club who received funding for new, lighter and more dynamic croker oars to enable participants of all abilities to take part.
Alongside its community fund, the Port has a dedicated Charity of the Year, a scheme that it has been running for five years. Mind Pembrokeshire was the Port's charity this year, and it has been raising funds throughout the year in support of the organisation.
Anna Malloy, Stakeholder Engagement and Communications Manager, Port of Milford Haven added: "We are really pleased to be engaging so directly with the community through these charitable schemes. It is a pleasure to see the difference we can make to local groups and it is something that everyone at the port takes pride in."
If you would like to apply to the Port's community fund, please go to: https://www.mhpa.co.uk/community-fund/.
-Ends-
Photo caption: Pembroke Dock RFC Under 9's with coaches and PR and Communications Assistant Emma Hutchings.

Notes to Editors
Port of Milford Haven
The Port of Milford Haven is the UK's top energy port and Wales' busiest port handling around 20% of Britain's seaborne trade in oil and gas. It is widely recognised in the industry as the energy capital of the UK.
The Port, along with the cluster of energy-related businesses along the Waterway, is a key driver of economic activity in Pembrokeshire, attracting inward investment and supporting over 4,000 jobs.
The Port of Milford Haven also owns and operates Pembroke Port and Milford Dock. Activities such as cargo handling, ferry operations, fish landing and cruise calls as well as a first class marina are spread across these two sites.
One of the most prominent on the West Coast, the Port is in the heart of the Pembrokeshire Coast National Park, the only Coastal National Park in Great Britain. It is marked as a Special Area of Conservation (SAC) and has many areas designated as Sites of Special Scientific Interest (SSSI).
The Port of Milford Haven is a trust port – an independent, commercially run organisation that has statutory responsibilities governed by its Acts, to maintain and improve navigation and the provision of Port and Harbour services and facilities. Additionally, the Port provides significant financial and in-kind support to a wide variety of local causes. All profits are retained within the business to fund these objectives.
For further information, visit www.mhpa.co.uk or contact:
Anna Malloy
Port of Milford Haven
01646 696100
anna.malloy@mhpa.co.uk