Pembrokeshire Pets benefit from an expanding All Pets Vet Care
19/11/2018
---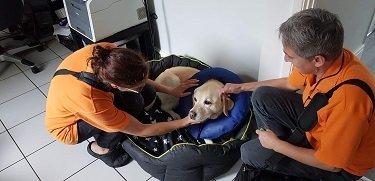 Pembrokeshire Pets are now able to access to an improved service at All Pets Vet Care following the Practice's recent expansion. Housed in the Old Docks Building, Milford Waterfront, the Practice has created space for extra facilities including an office, shower room and storage facilities for supplies. As well as taking on extra space they have introduced a new home visiting service, the first of its kind in Pembrokeshire.
All Pets Vet Care have been offering a first class, professional veterinary service since September 2009 following a full alteration and improvement programme on the previously dilapidated Old Docks building. The redevelopment has transformed the building into an impressive, state-of-the-art vet's practice - both structurally and cosmetically. This led to it winning the prestigious Practice Design Award, a UK-wide bi-annual competition run by the British Veterinary Hospital Association.
Always innovating, All Pets Vet Care were the first practice in South Wales to offer therapeutic K- laser treatments, as well as being the first practice in Pembrokeshire to offer dental x-rays and keyhole bitch spays. Veterinary dentistry is of special interest to the practice and all the clinical staff have received additional training in this area. The practice has even hosted dentistry and ultrasound courses which have been open to delegates from all over the country, thereby creating income for other local businesses.
Pembrokeshire Pets are also being treated at their homes for the first time thanks to All Pets Vet Care's new home visiting service. The area from Dale to Pembroke, Cosheston and upwards to Haverfordwest is covered on set mornings which allows visit fees to be kept low and provides services for routine procedures like vaccinations, blood samples, blood pressure measurements, bandage changes and more.
Billa Schleicher MRCVS, Owner of All Pets Vet Care commented: "We are passionate about offering the best service possible to both owners and pets. The new expansion will allow us to continue this. Transforming this building 9 years ago was a labour of love, taking on the additional space was a natural progression for us. Also, being able to further improve our service by introducing home visits is a great achievement, and we are very excited to get started."
Melanie Jenkins, Property and Legal Manager of Quayside Properties added: "All Pets Vet Care are longstanding tenants at Milford Waterfront and it is great to see them thriving. Whether you have two feet or four, they offer a truly top-class and personal service. We wish them all the best with their expansion and new initiative."
-Ends-
Photo: Karen Burton and Billa Scheicher from All Pets Vet Care tending to a pet during an at-home visit.
Notes to Editors
Milford Waterfront
Milford Waterfront is a multi-million pound regeneration project being led by the Port of Milford Haven. It aims to revitalise the marina and docks into a vibrant destination, adding to the existing mix of leisure, retail and dining businesses and boosting the economy by providing long term, sustainable jobs.
A number of flagship projects have already been completed at the site including the installation of new lock gates that have significantly reduced locking times and the construction of new fishing buildings for the industry.
The new development will also celebrate the arts, culture and heritage of the area, working in partnership with key stakeholders. The Port already hosts a busy calendar of events at the marina such as Torch Theatre Sunset Cinema screenings and awards ceremonies which add to the diverse range of attractions on the waterfront.
In June 2018, Pembrokeshire County Council unanimously approved a revision to the Milford Waterfront development's outline planning consent.
For further information, visit www.milfordwaterfront.co.uk or contact:
Anna Malloy
Port of Milford Haven
01646 696100
anna.malloy@mhpa.co.uk