Mind Pembrokeshire announced as Port's Charitable Cause for 2018
29/01/2018
---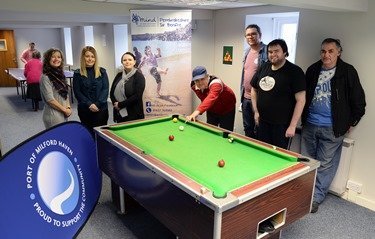 Mind Pembrokeshire has been selected by staff at the Port of Milford Haven to be its Charitable Cause for 2018, which means the charity can look forward to a range of financial and in kind support for the next twelve months. As well as the financial donation made by the organisation, staff are always keen to raise additional funds through fundraising activities and by volunteering.  Last year over £10,000 of support was provided to the Port's previous charitable cause, The Paul Sartori Foundation.
Mind Pembrokeshire is a mental health charity with a resource centre in Haverfordwest where it operates counselling, befriending and carers services, as well as providing supported housing accommodation.
Charity Director Tracey Price was really excited and proud to be chosen as the Port of Milford Haven's Charitable Cause. "To be voted in by employees is especially pleasing and we want to thank them", she said. "We are looking forward to working alongside them this year to raise awareness of mental health issues and ways we can be mentally healthy. All donations will ensure we can continue to support people across Pembrokeshire 365 days a year - something we are privileged to be able to do."
The Port runs an extensive community support programme.  In addition to its year-long work with a charitable cause, it also supports hundreds of other organisations and community groups through its Community Fund.  During 2017 over £30,000 of funding was awarded through this Fund alone benefitting a wide range of community groups, sports teams and events such as Tenby Sea Swimming Association's annual Caldey Swim, IT equipment for the Queen's Hall in Narberth and PATCH's Christmas Toy Appeal.
Support was also provided to the Apostleship of the Sea (AoS) through a separate fund which is set aside to help visiting seafarers. The Seafarers Welfare Fund contributed towards the provision of welfare officers in the community to provide practical and pastoral care to all seafarers, as well as towards the running costs of the AoS minibus used to transport seafarers whilst in port.
Anna Malloy, Stakeholder Engagement and Communications Manager, said "There are so many worthy causes out there and some great people driving them forward; it's been an honour to work with them and support them in making a difference to people's lives.  Mind Pembrokeshire was a clear leader in our staff vote which I believe reflects the significance of the work they're doing.  We're all looking forward to working with them this year."
To apply to the Port of Milford Haven's Community Fund, please visit www.mhpa.co.uk/community-fund
-Ends-
Photo caption: Chief Executive Tracey Price at Mind Pembrokeshire with Anna Malloy, Stakeholder Engagement and Communications Manager at the Port of Milford Haven

Notes to Editors
Port of Milford Haven
The Port of Milford Haven is the UK's top energy port and Wales' busiest port handling around 20% of Britain's seaborne trade in oil and gas.  It is widely recognised in the industry as the energy capital of the UK.
The Port, along with the cluster of energy-related businesses along the Waterway, is a key driver of economic activity in Pembrokeshire, attracting inward investment and supporting over 4,000 jobs.
The Port of Milford Haven also owns and operates Pembroke Port and Milford Dock.  Activities such as cargo handling, ferry operations, fish landing and cruise calls as well as a first class marina are spread across these two sites.
One of the most prominent on the West Coast, the Port is in the heart of the Pembrokeshire Coast National Park, the only Coastal National Park in Great Britain. It is marked as a Special Area of Conservation (SAC) and has many areas designated as Sites of Special Scientific Interest (SSSI).
The Port of Milford Haven is a trust port – an independent, commercially run organisation that has statutory responsibilities governed by its Acts, to maintain and improve navigation and the provision of Port and Harbour services and facilities.  Additionally, the Port provides significant financial and in-kind support to a wide variety of local causes.  All profits are retained within the business to fund these objectives.
For further information, visit www.mhpa.co.uk or contact:
Anna Malloy
Port of Milford Haven
01646 696100
anna.malloy@mhpa.co.uk