Tug safety training offered at Port's state-of-the-art simulation suite
08/01/2018
---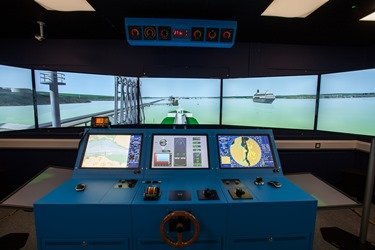 A powerful virtual-reality ship simulation system, operated by the Port of Milford Haven is running courses to train tug boat operators from across Britain.
The Navigation Suite, based at Milford Waterfront, creates highly realistic computer-generated versions of any port in the world, giving trainees the opportunity to take the controls of any vessel, including tugboats, to practice scenarios.
Tug skippers from Williams Marine Services and Teignmouth Harbour Commission spent two days undertaking theory based safety training and working on simulated 'as real' scenarios within the port. Training focused on the dangers around small conventional tug handling, the importance of good communication between pilots and tug handlers, and working in poor weather conditions.
Harbourmaster and Chief Executive Officer at Teignmouth Harbour Commission, Commander David Vaughan, put some of his team through the course, "Our employees returned from the course with nothing but praise for an excellent, well run and well-presented course. There has been a gap in the market for this kind of training for small port tug operators which has now been filled."
Steve Hardcastle, Deputy Harbourmaster at the Port of Milford Haven, manages the simulation suite. "This facility enables maritime professionals to get bespoke training in a safe environment," said Steve. "The cutting-edge technology means that any type of incident can be replicated in any location. The suite is operated by marine professionals and pilots and who have experienced the scenarios that are presented during the exercises, so they are well placed to oversee the training. This course is overseen by David Brown of DB Marine, a very experienced tug professional."
Built using MARIN's latest software, DOLPHIN, the navigation suite can introduce additional environmental and hydrodynamic forces, and gives Tug Masters or Boat Masters the opportunity to carry out the towage of single or multiple barge movements either pulling, pushing or 'hipped up' depending on the size of the barge or pontoon.
They work in simulated form on small and some larger ships understanding and realising the dangers of connecting up, girting and under the bow towage.
For more information about training at the navigation simulation suite please contact Steve Hardcastle on 01646 696100 or enquiries@mhpa.co.uk. Alternatively visit www.mhpa.co.uk/marine-simulator to watch a video of the facility.
-Ends-
Photo caption: Milford Haven's simulator suite has the potential to put you at the helm of any marine vessel, in any port.
Notes to Editors
Marine Navigation Suite
Using Marin's Dolphin technology, the Port of Milford Haven's navigation simulator suite offers a state of the art training and exercise facility. The suite offers superb adaptability to recreate an extensive range of scenarios. Its modular booking approach means the space can be managed to meet exact requirements.
Key features:
• Adjustable to show influence of all external effects like wind, waves (first order motions, wave drift), tidal currents, shallow water, bank suction, ship to ship interaction, tug and berthing line forces, collision forces etc. The models are water depth/draft dependent.
• Simulators offering full fore, aft, port and starboard vision and manoeuvrability
• Multiple vessel programmes, modelled to show corresponding seakeeping behaviour and controls
• Access to staff that can assist with exercises or carry out simulations on your behalf
• Potential to modify suite to simulate your exact bridge requirements
• Full connectivity throughout suite
Multiple space availability
• Bridge simulator
• Tug/pilot boat (or alternate vessel)
simulator
• Instructor operation station
• Debriefing room and 2nd instructor
operating suite
• VTS suite
• Kitchen and breakout area 
Functions
• Pilot training
• Captain and crew training
• Tug master training
• Multiple vessel and scenario training
• Emergency exercises
• Vessel manoeuvring trials
• Incident investigations
• Awareness courses for leisure users

Port of Milford Haven
The Port of Milford Haven is the UK's top energy port and Wales' busiest port handling around 20% of Britain's seaborne trade in oil and gas.  It is widely recognised in the industry as the energy capital of the UK.
The Port, along with the cluster of energy-related businesses along the Waterway, is a key driver of economic activity in Pembrokeshire, attracting inward investment and supporting over 4,000 jobs.
The Port of Milford Haven also owns and operates Pembroke Port and Milford Dock.  Activities such as cargo handling, ferry operations, fish landing and cruise calls as well as a first class marina are spread across these two sites.
One of the most prominent on the West Coast, the Port is in the heart of the Pembrokeshire Coast National Park, the only Coastal National Park in Great Britain. It is marked as a Special Area of Conservation (SAC) and has many areas designated as Sites of Special Scientific Interest (SSSI).
The Port of Milford Haven is a trust port – an independent, commercially run organisation that has statutory responsibilities governed by its Acts, to maintain and improve navigation and the provision of Port and Harbour services and facilities.  Additionally, the Port provides significant financial and in-kind support to a wide variety of local causes.  All profits are retained within the business to fund these objectives.
For further information, visit www.mhpa.co.uk or contact:
Anna Malloy
Port of Milford Haven
01646 696100
anna.malloy@mhpa.co.uk