Port helps Pembrokeshire Special Needs Gymnastics Club pick up medals
17/11/2017
---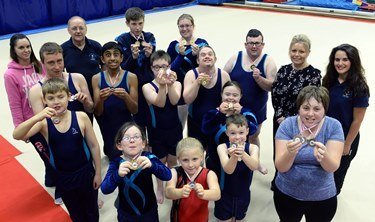 Members of Pembrokeshire Special Needs Gymnastics Club were able to travel to the Poole Open Championships – Disability Gymnastics recently thanks to funding received from the Port of Milford Haven.
Proudly displaying a fantastic array of prizes, the members celebrated a successful competition and returned home with 32 medals.
The club trains at the Meads Leisure Centre in Milford Haven and has members from all over Pembrokeshire.   Young people are encouraged to advance their physical health and develop gymnastics skills whilst having fun and making friends in a safe and supportive environment.  A loyal team of volunteers give up their spare time to train team members and offer support to participate locally and in national competitions such as the Special Olympics.
Head Coach, Amy Yelland said "Attending the Open Championships is a fantastic experience for the gymnasts and the club is very grateful for the Port's continued support over the years.  If anyone is interested in volunteering with the club, please pop along to the Meads in any term time Thursday from 16:30 to 20:30."
"It's great to see the Port's Community Fund in action", said Anna Malloy, PR and Communications Manager for the Port of Milford Haven.  "Our employees, who assess all applications for financial support, are always motivated to see how the projects they support are enriching the lives of people in their local community."
To apply to the Port of Milford Haven's Community Fund, please visit www.mhpa.co.uk/financial-support
-Ends-
Photo caption: Anna Malloy, PR and Communications Manager at the Port, with members of Pembrokeshire Special Needs Gymnastics Club displaying their medals

Notes to Editors
Port of Milford Haven
The Port of Milford Haven is the UK's top energy port and Wales' busiest port handling around 20% of Britain's seaborne trade in oil and gas.  It is widely recognised in the industry as the energy capital of the UK.
The Port, along with the cluster of energy-related businesses along the Waterway, is a key driver of economic activity in Pembrokeshire, attracting inward investment and supporting over 4,000 jobs.
The Port of Milford Haven also owns and operates Pembroke Port and Milford Dock.  Activities such as cargo handling, ferry operations, fish landing and cruise calls as well as a first class marina are spread across these two sites.
One of the most prominent on the West Coast, the Port is in the heart of the Pembrokeshire Coast National Park, the only Coastal National Park in Great Britain. It is marked as a Special Area of Conservation (SAC) and has many areas designated as Sites of Special Scientific Interest (SSSI).
The Port of Milford Haven is a trust port – an independent, commercially run organisation that has statutory responsibilities governed by its Acts, to maintain and improve navigation and the provision of Port and Harbour services and facilities.  Additionally, the Port provides significant financial and in-kind support to a wide variety of local causes.  All profits are retained within the business to fund these objectives.
For further information, visit www.mhpa.co.uk or contact:
Anna Malloy
Port of Milford Haven
01646 696100
anna.malloy@mhpa.co.uk