Milford Haven pupils are gearing up for the future
09/10/2017
---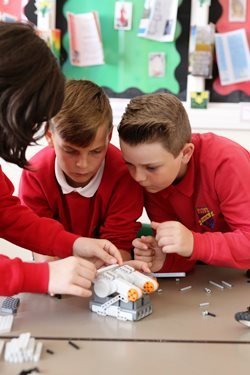 An educational initiative to give pupils an understanding of robotics and engage them with science, technology, engineering and maths (STEM) subjects whilst also learning about the maritime economy of their local community was delivered by Dark Sky Wales this summer, with funding from the Port of Milford Haven.
A total of 177 year 6 pupils from Milford Haven Junior School, Hakin Community School, St Francis Catholic Primary School and Coastlands CP School participated in the project and achieved an accredited Agored Cymru qualification - Using a programmed racer.
Working in small teams within their schools, pupils followed instructions to program a robotic racer with sensors, manoeuvre and berth at a location on a 3D model of the Milford Haven Waterway. The project provided an engaging way for the pupils to learn more about the maritime activities happening on their doorstep at the Port of Milford Haven.  Port employees were also on hand to demonstrate the vast career opportunities the maritime industry can offer.
Allan Trow from Dark Sky Wales said "This innovative project supported by the Port of Milford Haven has helped 177 pupils experience robotics and coding and gain an Agored Cymru accredited qualification. It was a fantastic opportunity for the students to obtain new knowledge and skills and enhance their understanding of the work of the Port of Milford Haven."
Commenting on the success of what is the second year for this project PR and Communications Manager at the Port Anna Malloy said, "Although many of our local pupils will pass some part of the Port on their way to school, the significance of what is Wales' largest Port is often not on their radar. We're pleased to have found a way to highlight this significance and at the same time to have created an exciting opportunity for pupils to engage with the subject of robotics. Hopefully we've also inspired some of them to consider a career in the maritime industry".