Over one thousand cruise passengers to call at Milford Haven in September
08/09/2017
---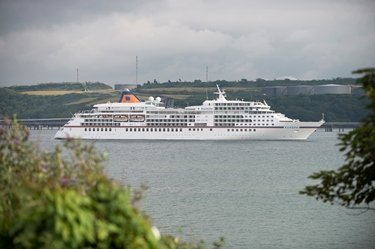 Over one thousand cruise passengers to call at Milford Haven in September
Two cruise ships carrying over one thousand passengers and more than five hundred crew are scheduled to call at Milford Haven later this month.
The Ocean Majesty is due to arrive from Cork at 07:00hrs on Saturday 16th September as part of its eleven night voyage from Bremerhaven in Germany. Passengers will enjoy trips to St David's, Pembroke Castle, Tenby and Upton Castle, as well as complimentary entry into Milford Haven Museum. It will depart at approximately 19:00hrs and continue her journey onto Falmouth.
Just days later, on Thursday 21st September, the MS Europa will arrive from Avonmouth. It holds the title as one of the only six star cruise ships in the world and is a German-speaking vessel. The Europa is expected to arrive at 07:00hrs before setting off on excursions, as well as spending time in Milford Haven. Passengers will be on a fourteen day cruise from Kiel to Hamburg, with its next stop at Dartmouth. The Europa last called at Milford Haven last May.
Alec Don, Chief Executive at the Port of Milford Haven, said "We've enjoyed welcoming hundreds of cruise passengers and crew to the county this summer. Some choose to explore historic sites and visit popular coastal towns, but many opt to stay in Milford Haven to enjoy the picturesque marina and sample the diverse mix of independent shops, cafes and restaurants. We provide a free shuttle bus around the town to ensure the visitors are able to experience everything that Milford Haven has to offer."
Earlier this year the Port welcomed the Silver Explorer to Pembroke Port in June and the Prinsendam into Milford Haven in August. For more information on cruise facilities visit www.mhpa.co.uk/cruise