Milford Haven residents invited to P1 Welsh Grand Prix of the Sea information event
15/06/2017
---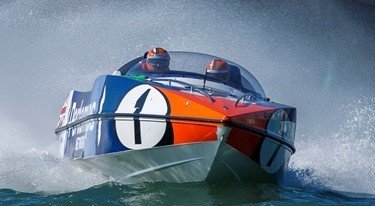 Residents of Milford Haven are invited to attend a drop-in information session next week, in preparation for the P1 Welsh Grand Prix of the Sea this summer.
The high-octane powerboat and jetski racing event takes place on Saturday 15th and Sunday 16th July and is expected to attract up to 15,000 visitors to Milford Haven. The information session will provide people with an opportunity to find out more about the activities planned, access and travel advice, and is a chance to raise any queries. The information event will be held at St Katharine and St Peter's Parish Hall on Wednesday 21st June between 4-6pm.
A number of sponsorship packages are still available for businesses to take advantage of. Sponsors will be provided with an advert in the official event programme, PA announcements over the weekend, VIP corporate hospitality tickets and onsite branding. This is in addition to the extensive media coverage that P1 racing attracts both nationally and globally. For more details contact Lucy James, Marketing Manager at the Port, on lucy.james@mhpa.co.uk
Tickets are expected to sell quickly and can be purchased online at https://www.milfordwaterfront.co.uk/p1-powerboat-jet-ski-racing/ VIP and Premium tickets are available and under 12s receive free entry. 
Milford Waterfront is the proud sponsor of two teams in the event – the Pembrokeshire Panther, driven by Andy Foster alongside navigator Charles Morris, and award-winning Coleman Racing which is made up of Saundersfoot sibling team Daisy and Sam Coleman.
-Ends-
Photo caption: Coleman Racing will be competing at the P1 Welsh Grand Prix of the Sea (photo: Adrian Owens)
Notes to Editors
Milford Waterfront
Milford Waterfront is a multi-million pound regeneration project being led by the Port of Milford Haven. It aims to revitalise the marina and docks into a vibrant destination, adding to the existing mix of leisure, retail and dining businesses and boosting the economy by providing long term, sustainable jobs.
A number of flagship projects have already been completed at the site including the installation of new lock gates that have significantly reduced locking times and the construction of new fishing buildings for the industry.
The new development will also celebrate the arts, culture and heritage of the area, working in partnership with key stakeholders. The Port already hosts a busy calendar of events at the marina such as Torch Theatre Sunset Cinema screenings and awards ceremonies which add to the diverse range of attractions on the waterfront.
In February 2015, a resolution to grant consent was gained from Pembrokeshire County Council for the development and work is ongoing to finalise detailed plans that will soon be submitted to the local authority.

Anna Malloy
Port of Milford Haven
01646 696100
anna.malloy@mhpa.co.uk