Positive results point to exciting future for Britain's leading energy Port
25/04/2016
---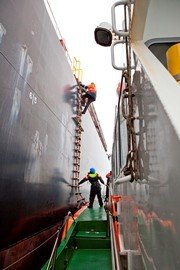 The Port of Milford Haven has published its accounts for 2015, showing a strong performance.
The Port recorded a profit before tax of £4.4m with the port experiencing net growth in cargo volumes, up by over 10% on 2014 levels, at 37.8 million tonnes.
 
Valero remained consistently busy and the Port benefited from a continued increase in volumes of LNG.  The storage terminals at SemLogistics and Puma Energy also saw reasonable levels of activity.
Chief Executive at the Port of Milford Haven, Alec Don, welcomed the results. "Not only has the port remained busy, it has also attracted new business to the area," he said. "We have continued to invest in both services and facilities to ensure we can maintain the port's status as the UK's biggest gateway for seaborne energy products. Considerable praise must go to our staff. Their skill and dedication has kept the port running efficiently and effectively," he added.
Investment in operations up-river at Pembroke Port also yielded results.  The port remained South Wales' largest and most successful ferry terminal. It also attracted a new contract to handle and ship out refuse-derived fuel to Sweden.  The diversification strategy to attract manufacture and maintenance contracts for marine renewables took a leap forward at the end of 2015 with the deployment of Tidal Energy Limited's prototype device, DeltaStream, constructed in the port.
The Port of Milford Haven also owns and operates Milford Dock and Marina, base of Wales' largest fishing port. Planning approval for a wholesale redevelopment of the area was secured in 2015, paving the way for further investment and modernisation.
"Last year saw significant improvements both in the water, with new lock gates bringing significantly enhanced and shortened passage times into and out of the docks and marina, and by the water with new fish handling and processing facilities," said Alec. "Our strategy to invest in the growth of fish handling, processing and retail will also be a catalyst for further business activity here," he added. "Across the docks we have laid the foundations for comprehensive development that will see new retail and visitor attractions built. In turn, this will generate jobs and encourage further inward investment."
"We are investing for the future. However, this can only be achieved through close collaboration with partners and in a business environment that makes it easy to invest, operate and employ."
The Port's 2015 Annual Reports and Accounts can be viewed online at www.mhpa.co.uk/annual-report

-Ends-

Photo caption: Chief Executive praises Port staff for delivering strong performance in tough trading conditions at UK's biggest energy port
Notes to Editors:
Port of Milford Haven

The Port of Milford Haven is the UK's top energy port and Wales' busiest port handling around 20% of Britain's seaborne trade in oil and gas.  It is widely recognised in the industry as the energy capital of the UK.

The Port, along with the cluster of energy-related businesses along the Waterway, is a key driver of economic activity in Pembrokeshire, attracting inward investment and supporting over 4,000 jobs.

The Port of Milford Haven also owns and operates Pembroke Port and Milford Dock.  Activities such as cargo handling, ferry operations, fish landing and cruise calls as well as a first class marina are spread across these two sites.

One of the most prominent on the West Coast, the Port is in the heart of the Pembrokeshire Coast National Park, the only Coastal National Park in Great Britain. It is marked as a Special Area of Conservation (SAC) and has many areas designated as Sites of Special Scientific Interest (SSSI).

The Port of Milford Haven is a trust port – an independent, commercially run organisation that has statutory responsibilities governed by its Acts, to maintain and improve navigation and the provision of Port and Harbour services and facilities.  Additionally, the Port provides significant financial and in-kind support to a wide variety of local causes.  All profits are retained within the business to fund these objectives.

For further information, visit www.mhpa.co.uk or contact:
Anna Malloy
Port of Milford Haven
01646 696100
anna.malloy@mhpa.co.uk