Gordon Bennett! It's all happening at Milford Marina
14/04/2016
---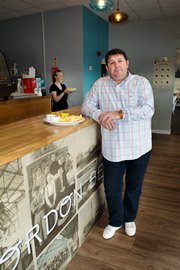 Gordon Bennett's, a new fish and chip shop and seafood restaurant, is now open at Milford Marina in Milford Haven.
Milford Marina's newest restaurant and take-away opened on 11th April 2016.
Gordon Bennett's offers traditional fish and chips and a range of seafood dishes making it the ideal destination when lunching with friends, grabbing a quick but delicious take-away, or dining out for a special occasion whilst looking out across the idyllic waterfront.  
Adrian Hutchings, owner of Gordon Bennett's, said: "It has been a life long ambition to open a fish and chip shop and with the developments at Milford Marina it seemed an ideal opportunity to make that dream a reality.  Gordon Bennett was my Grandfather, a fisherman who fished out of Milford Docks.  The restaurant is named in memory of him and in recognition of the fishing heritage of the local area."
Clare Stowell, Manager of Quayside Properties which is part of the Port of Milford Haven, said: "Gordon Bennett's traditional fish and chip shop and restaurant will offer a new and exciting dining experience for visitors to Milford Marina.  It is exactly the type of business we are aiming to attract as part of the redevelopment of Milford Marina and Docks. Gordon Bennett's will complement the existing range of quality food and beverage outlets already based here and we are delighted to welcome Adrian as a new tenant.  I look forward to supporting him long into the future."
-Ends-
Notes to Editors
Port of Milford Haven
The Port of Milford Haven is the UK's top energy port and Wales' busiest port handling around 20% of Britain's seaborne trade in oil and gas.  It is widely recognised in the industry as the energy capital of the UK.
The Port, along with the cluster of energy-related businesses along the Waterway, is a key driver of economic activity in Pembrokeshire, attracting inward investment and supporting over 4,000 jobs.
The Port of Milford Haven also owns and operates Pembroke Port and Milford Dock.  Activities such as cargo handling, ferry operations, fish landing and cruise calls as well as a first class marina are spread across these two sites.
One of the most prominent on the West Coast, the Port is in the heart of the Pembrokeshire Coast National Park, the only Coastal National Park in Great Britain. It is marked as a Special Area of Conservation (SAC) and has many areas designated as Sites of Special Scientific Interest (SSSI).
The Port of Milford Haven is a trust port – an independent, commercially run organisation that has statutory responsibilities governed by its Acts, to maintain and improve navigation and the provision of Port and Harbour services and facilities.  Additionally, the Port provides significant financial and in-kind support to a wide variety of local causes.  All profits are retained within the business to fund these objectives.
For further information, visit www.mhpa.co.uk or contact:
Anna Malloy
Port of Milford Haven
01646 696100
anna.malloy@mhpa.co.uk