Voyage of discovery for cruise ship visiting the Port of Milford Haven
31/07/2015
---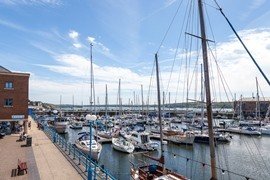 The cruise ship MV Voyager will sail into the Port of Milford Haven next week (Thursday 6th August) in search of medieval castles and historic Celtic landmarks.
The 15,000 tonne 150m long Dutch vessel will be the fourth cruise visitor to Wales' largest port this year. Her passengers, en route from Jersey to Dublin, will be taking trips to some of the famous sights and places in the county including St Davids, Carew and Pembroke, as well as taking time out to explore the attractive surroundings of Milford Marina.
MV Voyager's call marks the halfway-point in a busy cruise season for the Port this year. Alaric Churchill, Marina and Docks Manager at the Port of Milford Haven, which safely handles the visiting ships, said the feedback from previous visitors disembarking at the cruise reception in Milford Marina has been extremely positive.
"Guests have commented on the warm welcome that people in Milford Haven have extended to them. They love coming to Pembrokeshire, as it has such a rich heritage so easily accessed from here in the Port. There are fifteen medieval castles within twenty miles of the Milford Haven Waterway and countless other great attractions, so it's hardly surprising we are on their itinerary."
-Ends-
Photo caption: Passengers from cruise vessel MV Voyager will be visiting Milford Marina next week
Notes to Editors
Port of Milford Haven
The Port of Milford Haven is UK's top energy port and Wales' busiest port handling around 20% of Britain's seaborne trade in oil and gas.  It is widely recognised in the industry as the energy capital of the UK.

The Port, along with the cluster of energy-related businesses along the Waterway, is a key driver of economic activity in Pembrokeshire, attracting inward investment and supporting over 4,000 jobs.

The Port of Milford Haven also owns and operates Pembroke Port and Milford Dock.  Activities such as cargo handling, ferry operations, fish landing and cruise calls as well as a first class marina are spread across these two sites.

One of the most prominent on the West Coast, the Port is in the heart of the Pembrokeshire Coast National Park, the only Coastal National Park in Great Britain. It is marked as a Special Area of Conservation (SAC) and has many areas designated as Sites of Special Scientific Interest (SSSI).

The Port of Milford Haven is a trust port – an independent, commercially run organisation that has statutory responsibilities governed by its Acts, to maintain and improve navigation and the provision of Port and Harbour services and facilities. 

Additionally, the Port provides significant financial and in-kind support to a wide variety of local causes.  All profits are retained within the business to fund these objectives.

For further information, visit www.mhpa.co.uk or contact:
Sara Andrew
Port of Milford Haven
01646 696100
sara.andrew@mhpa.co.uk