New lock gates arrive at Milford Dock
01/12/2014
---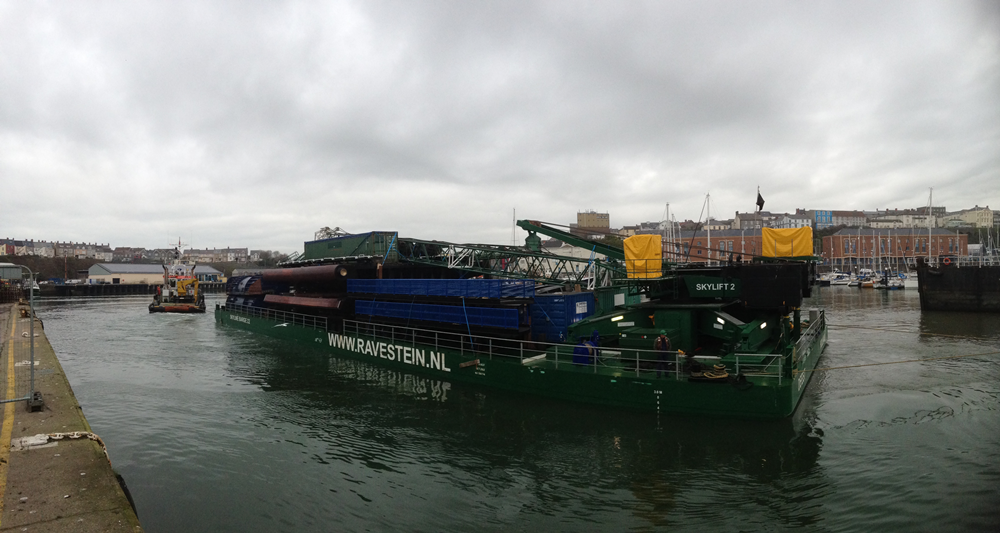 A milestone was reached today as a giant set of new lock gates arrived by barge in Milford Haven. The gates are part of the Port's £6m Milford Dock Lock Project which will reduce locking times and help make the marina one of the UK's top marine leisure destinations.
The gates were built in the Netherlands and brought over by barge ahead of schedule due to favourable weather conditions. The gates, which weigh 90 tonnes each- the equivalent of 7 and a half London buses- are due to be installed on Wednesday when the lock will be closed to all users.
Engineering Director at the Port Tim Bownes said "The Port is pleased to see the safe delivery of the gates from the Netherlands, which brings the completion of the Dock Lock project a large step closer. Installation of the gates will take place on Wednesday and over the next few weeks the gates will undergo commissioning and testing."
Welcoming the arrival is chief executive Alec Don, who said "It is really exciting to see this project nearing completion. It will make Milford Dock one of the most accessible tidal docks in the UK- great news for fishermen and sailors using the dock as a base to access the waterway and coastline of Pembrokeshire. The Port is investing nearly £6 million in this project because we believe fishing and water-based leisure can bring even greater benefits to the local economy. A modern, efficient dock brings more business here, more investment, spending and jobs." He added "We are extremely grateful to our customers who've shown incredible patience. As you can see we are very nearly there."
The project to build new gates in the lock is part of Visit Wales' Coastal Tourism Project, part funded by the European Regional Development Fund through the Welsh Government, to encourage tourism along the Welsh coastline.
-Ends-
Photo caption: The new lock gates arriving at Milford Dock