PATCH named the Port of Milford Haven's Charity of the Year
12/03/2014
---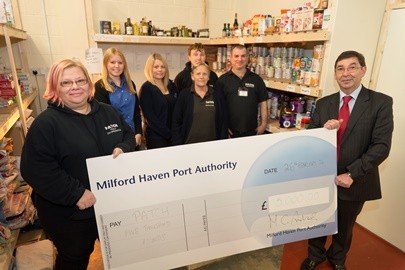 A charity that aims to relieve the effects of poverty in Pembrokeshire has been named the Port of Milford Haven's Charity of the Year for 2014. PATCH (Pembrokeshire Action to Combat Hardship) was selected by Port employees to receive both financial and in-kind support. 
PATCH has been distributing food parcels, clothing and household items to those in a financial crisis for almost six years and has bases in Milford Haven, Haverfordwest and Monkton. During 2013, PATCH provided food parcels to 3,000 individuals in Pembrokeshire and clothing to over 600 people.
This is the first time that the Port has had a staff-nominated Charity of the Year.  Staff from across the organisation are keen to get involved wherever possible whether that be through the Port's volunteering scheme or by taking part in fundraising activities.
Port of Milford Haven corporate affairs director Mark Andrews, commented: "PATCH received the most nominations from employees across all parts of the business.  It's hoped that many will embrace this as an opportunity to help a charity that is unfortunately needed in our community. We are looking forward to working with Tracy and her volunteers at PATCH throughout 2014".
PATCH Co-ordinator Tracy Olin was delighted with the news. She said "It's not often I'm speechless, but I am.  The Port has been there for PATCH since the beginning and has always been so supportive of everything we do.  I didn't think it was possible for them to do much more, but this news is fantastic.  We've had some exciting hopes for PATCH in 2014 and this news means that they may have just become reality."
-Ends-
Photo caption: (Left to right) Tracy Olin, PATCH Co-ordinator; Sara Andrew and Anna Malloy, Port of Milford Haven; PATCH volunteers and Mark Andrews, Corporate Affairs Director at the Port of Milford Haven
Notes to Editors:

Port of Milford Haven
The Port of Milford Haven is responsible for the biggest port in Wales, and is the third largest port in the UK.  Each year it handles around 29% of Britain's seaborne trade in oil and gas and is widely recognised in the industry as the energy capital of the UK.
The Port, along with the cluster of energy-related businesses along the Waterway, is a key driver of economic activity in Pembrokeshire, attracting inward investment and supporting over 4,000 thousand jobs.
The Port of Milford Haven also owns and operates Pembroke Port and Milford Dock.  Activities such as cargo handling, ferry operations, fish landing and cruise calls as well as a first class marina are spread across these two sites.  One of the most prominent on the West Coast, the Port is in the heart of the Pembrokeshire Coast National Park, the only Coastal National Park in Great Britain. It is marked as a Special Area of Conservation (SAC) and has many areas designated as Sites of Special Scientific Interest (SSSI).
The Port of Milford Haven is a trust port – an independent, commercially run organisation that has statutory responsibilities governed by its Acts, to maintain and improve navigation and the provision of Port and Harbour services and facilities.  Additionally, the Port provides significant financial and in-kind support to a wide variety of local causes.  All profits are retained within the business to fund these objectives. 
For further information, visit www.mhpa.co.uk or contact:
Anna Malloy
Port of Milford Haven
01646 696100
anna.malloy@mhpa.co.uk