Milford Haven welcomes the Earl of Pembroke tall ship
18/06/2012
---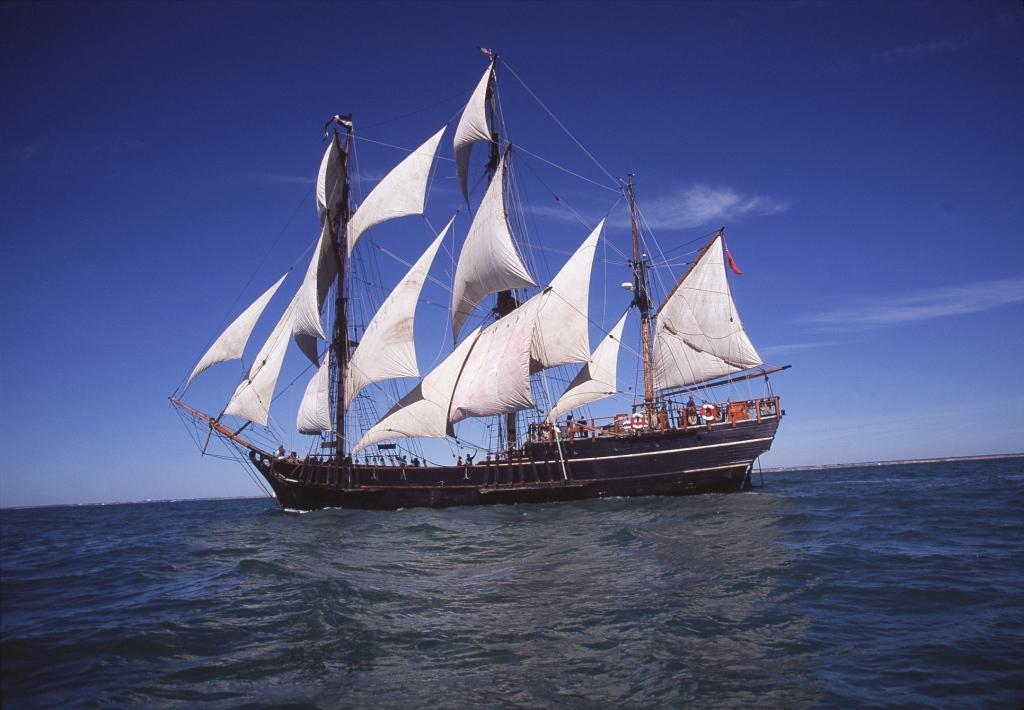 Tall ship, Earl of Pembroke will be visiting Milford Haven between 23rd June and 1st July for Pembrokeshire Fish Week, Seafair Haven and Seafarers Awareness Week.
The Earl of Pembroke is a wooden barque, built in Sweden in 1945. Originally used to haul timber in the Baltic sea, she has also been used in a number of films including the Hornblower Series III.
The ship, which has visited Pembrokeshire in 2006 and 2008, will be open to visitors all day on Saturday 23rd June to celebrate the start of Fish Week.
Voyages to and from Milford Haven will have sail traineess on-board and during the week, the tall ship will be used for the annual Sea Sunday service, school trips and events.
Richard James, European Project Manager for MHPA, said,
"It's great to be able to welcome the Earl of Pembroke back to Milford Haven.  Her visit gives us a chance to highlight the fantastic work of the Rising Tide project; part-funded by the European Regional Development Fund (ERDF) through the Ireland Wales Programme (INTERREG 4A) and hosted by Milford Haven Port Authority.  
"Over the last three years we have been working across Wales and Southern Ireland to develop economic opportunities and regenerate coastal communities through support for maritime events, maritime heritage organisations and training focused on marine skills for those not in employment or education."  
For more information, contact Richard on 01646 696371 or email richard.james@mhpa.co.uk.
-Ends-

Notes to Editors:

Photo caption: Earl of Pembroke
Milford Haven Port Authority
Milford Haven Port Authority is responsible for the biggest port in Wales, and the third largest port in the UK, handling over 71m gross tons of shipping which amounted to nearly 49m tonnes of cargo during 2011. One of the most prominent on the West Coast, it is in the heart of the Pembrokeshire Coast National Park, the only Coastal National Park in Great Britain.
Two Liquefied Natural Gas (LNG) facilities on its shores mean that a potential 30% of the UK's gas requirements will be processed through the Port.  With 25% of the UK's petrol and diesel provisions already being handled on the Waterway, Milford Haven is emerging as the new energy capital of the UK.
Milford Haven Port Authority is a trust port –an independent, commercially run organisation that has statutory responsibilities governed by its Acts, to maintain and improve navigation and the provision of Port and Harbour services and facilities.  All profits are retained within the Authority to fund these objectives. 

Rising Tide  
Rising Tide is a project that covers a geographical area of 6 counties on the West Wales Coast, with a similar geographical area in South East Ireland. It was conceived in order to create a tide of regeneration in coastal communities in Wales and Ireland, using Maritime Heritage and culture as economic drivers for tourism, whilst recreating a pride and ownership.  

This project is part-funded by the European Regional Development Fund (ERDF) through the Ireland Wales Programme (INTERREG 4A).  
For further information, visit www.mhpa.co.uk or contact:
Rachel Hicks
Radiant Media
01646 650195