Milford Haven Port helps Sea Cadets stay afloat
17/04/2012
---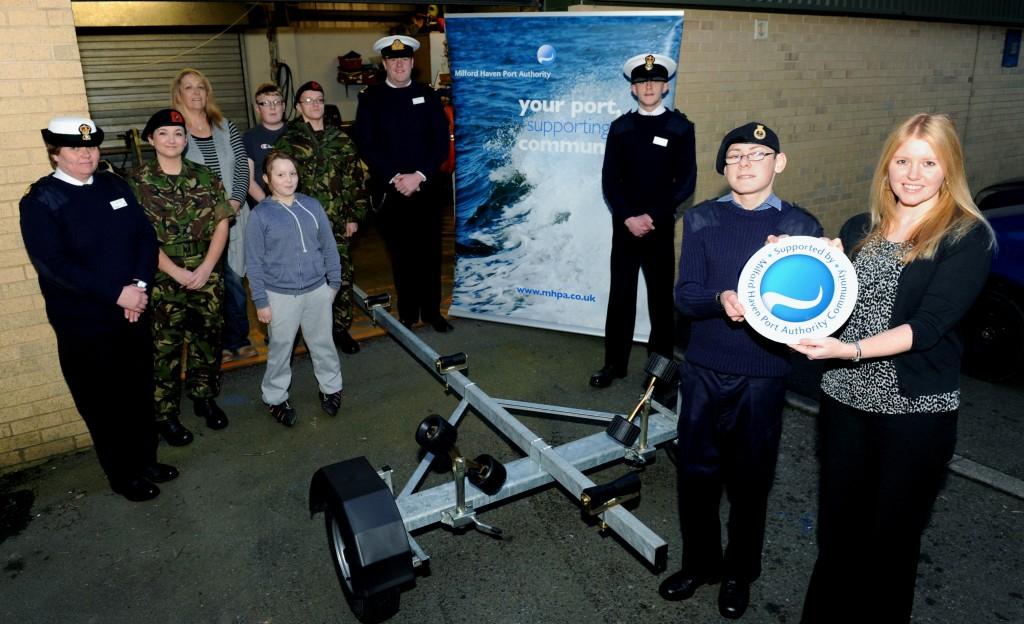 Milford Haven Sea Cadets have been able to safeguard the future of their waterborne activities thanks to funding from Milford Haven Port. The organisation recently applied to MHPA's Community Programme and was successful in securing sponsorship for a new safety-boat trailer and tow hitch installation.
Milford Haven Sea Cadets are currently carrying out a project to replace a number of their road trailers, to benefit both current and future cadets and volunteers. At present there are 53 cadets and 14 volunteer staff who take part in a wide range of activities, the majority of which take place on the Milford Haven Waterway. Chart work, sailing, rope work, cooking and marine engineering are some of the many skills learnt by the cadets.
Commenting on the funding Sub Lieutenant (SCC) William Elliott RNR, Commanding Officer said, "I would like to thank Milford Haven Port Authority for their generosity in supporting our waterborne activities. Without such donations we would not be able to get the cadets afloat." Applications to Milford Haven Port's community support programme are open to charities, voluntary and community organisations and social enterprises that are working within Pembrokeshire. For more information, visit www.mhpa.co.uk.
-Ends-

Photo caption: Milford Haven Sea Cadets and Sara Andrew from Milford Haven Port Authority with the new trailer

Notes to Editors:
Milford Haven Port Authority
Milford Haven Port Authority is responsible for the biggest port in Wales, and the third largest port in the UK, handling over 71m gross tons of shipping which amounted to nearly 49m tonnes of cargo during 2011. One of the most prominent on the West Coast, it is in the heart of the Pembrokeshire Coast National Park, the only Coastal National Park in Great Britain.
Two Liquefied Natural Gas (LNG) facilities on its shores mean that a potential 30% of the UK's gas requirements will be processed through the Port. With 25% of the UK's petrol and diesel provisions already being handled on the Waterway, Milford Haven is emerging as the new energy capital of the UK.
Milford Haven Port Authority is a trust port –an independent, commercially run organisation that has statutory responsibilities governed by its Acts, to maintain and improve navigation and the provision of Port and Harbour services and facilities. All profits are retained within the Authority to fund these objectives.
For further information, visit www.mhpa.co.uk or contact:
Sara Andrew
Milford Haven Port Authority
01646 696100
sara.andrew@mhpa.co.uk