"Lock Around the Clock" at Milford Marina
31/08/2011
---
An exciting new £5 million project, which will secure Milford Haven's future as a top sailing destination, has been announced.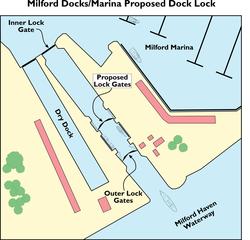 New lock gates are to be designed and installed at Milford Marina over the next two years, transforming the way the Marina can be accessed and boosting marine tourism and business in Milford Haven.
The development is part of Visit Wales' Coastal Tourism Project, part funded by the European Regional Development Fund through the Welsh Government, to encourage tourism along the Welsh coastline.
Andrew Brown, Engineering Director at Milford Haven Port Authority (MHPA) said: "At the moment berth holders just can't access and exit as much as they'd like. Our plans will reduce the locking time and make Milford Marina one of the most accessible locked marinas anywhere in Britain. From an engineering point of view this is an exciting project since the introduction of a completely new set of lock gates is a rare occurrence in British docks."
The move is part of a major investment undertaken by the Port Authority to make Milford Marina one of the top marine leisure destinations. The announcement of funding comes during the 20th anniversary of Milford Marina and reflects the confidence that Milford Haven Port Authority has for the future of Milford Docks.
Minister for European Programmes, Alun Davies AM, said: "This demonstrates how through partnership working we can maximise our resources to deliver a range of schemes and provide first class facilities to improve the visitor experience of our outstanding coast and help showcase what Wales has to offer to visitors."
The new lock gates, which will be constructed inside the existing lock, will offer sailors a 24 hour locking service compared to the limited current access. The new lock facility is due to be completed before December 2013.
"Leisure sailors tell us the Haven is already quite simply one of the best places to sail in Europe." said Nathan Hewitt of Pembrokeshire Marine Group, which manages the Marina in partnership with MHPA.
"What this new full width lock does is to hugely improve access to the excellent facilities at the Marina. This is a benefit not only to visiting sailors and commercial users but also the hundreds of boaters who use the waterway. With more visitors to the Marina the local Pembrokeshire economy will benefit too."
The Coastal Tourism project will implement key elements of the coastal tourism strategy with a focus on Green Sea and coastal water sports and recreation activity. Three Coastal Centres of Excellence (in Aberdaron, Pembrokeshire and Swansea Bay), and Green Sea Partnership will bring together these key elements whilst delivering comprehensive and exciting projects.
The Pembrokeshire Coastal Tourism Centre of Excellence, led by Pembrokeshire County Council, will deliver high quality facilities to enable visitors of all abilities to access and enjoy the coastline all year round. MHPA is one of four delivery partners who will deliver a total of eight individual ventures around the county's coastline.