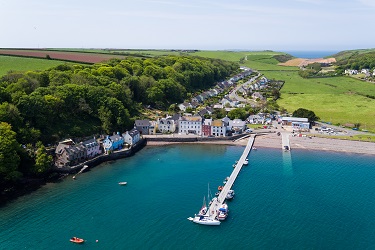 The Port of Milford Haven has made a significant contribution to ensure six pontoons continue to be available for leisure users of the Milford Haven Waterway for another decade.
Working collaboratively with Pembrokeshire County Council, the Port will assist with costs towards the management, maintenance and repair of the facilities at Dale, Burton, Neyland, Hobbs Point in Pembroke Dock, and Hazelbeach, for the next ten years.
The pontoons are used by recreational vessels and for people and equipment to be dropped off and collected. Five are shore-connecting and deployed at their locations between April and October, while the outer pontoon at Dale remains in location all year. Boats can stay for up to 12 hours for their passengers to enjoy their surroundings, whether that be fishing, water sports or going ashore.
Leisure users who are looking forward to making the most of the great outdoors this summer are reminded to plan their activities carefully, for example by checking the tides, letting someone know the details of their journey, ensuring their vessel is seaworthy and knowing how to call for help. More helpful safety tips can be found online at www.mhpa.co.uk/enjoy-the-waterway/safety-afloat
Harbourmaster at the Port of Milford Haven, Mike Ryan, commented "The Milford Haven Waterway is a fantastic stretch of water for people to spend their leisure time. Many locals and visitors to the area make use of these pontoons for water-based activities, so we're pleased to contribute to their upkeep to ensure they remain safe for everyone to enjoy."
Councillor Rhys Sinnett, Cabinet Member for Residents' Services, said "We are extremely grateful to the Port of Milford Haven for their contribution to ensure these six pontoons continue to be available for residents and visitors. This is an excellent example of local bodies working together in partnership for the local community."
He continued "The Haven Waterway is one of our greatest assets and we know just how important these pontoons are, not just for those visiting the area but also for our local boat users and residents to enjoy the Waterway."
The Milford Haven Waterway 5 Year Recreation Management Plan contains details about recreational activities and can be viewed at www.mhpa.co.uk/resource-library
-Ends-
Photo caption: The pontoon at Dale is popular with residents and visitors to Pembrokeshire.
Notes to Editors:
Port of Milford Haven
The Port of Milford Haven is the UK's top energy port and Wales' busiest port handling around 20% of Britain's seaborne trade in oil and gas.  It is widely recognised in the industry as the energy capital of the UK.
The Port, along with the cluster of energy-related businesses along the Waterway, is a key driver of economic activity in Pembrokeshire, attracting inward investment and supporting over 4,000 jobs.
The Port of Milford Haven also owns and operates Pembroke Port and Milford Waterfront. Activities such as cargo handling, ferry operations, fish landing and cruise calls as well as a first class marina are spread across these two sites. 
One of the most prominent on the West Coast, the Port is in the heart of the Pembrokeshire Coast National Park, the only Coastal National Park in Great Britain. It is marked as a Special Area of Conservation (SAC) and has many areas designated as Sites of Special Scientific Interest (SSSI).
The Port of Milford Haven is a trust port – an independent, commercially run organisation that has statutory responsibilities governed by its Acts, to maintain and improve navigation and the provision of Port and Harbour services and facilities.  Additionally, the Port provides significant financial and in-kind support to a wide variety of local causes.  All profits are retained within the business to fund these objectives. 
For further information, visit www.mhpa.co.uk or contact:
Anna Malloy
Port of Milford Haven
01646 696100
anna.malloy@mhpa.co.uk