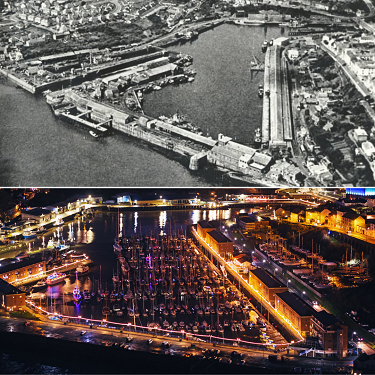 Milford Marina is celebrating its 30th anniversary this year and, to celebrate, the team are asking for local people and berth holders, past and present, to submit their stories to help capture the rich history of the development.
Built in 1991 with 225 berths, Milford Marina has evolved and expanded to now offering over 300 berths. The site is steeped in rich history and the team are celebrating this milestone by collating stories from the last 30 years to be used in the celebration campaign #MilfordMarina30.
Lucy Wonnacott, Marketing Manager for the Port of Milford Haven commented: "We are so proud and excited to be able to celebrate 30 years of Milford Marina! It is a key element in the exciting Waterfront development here in Milford Haven, and is home to so many brilliant stories. We want to celebrate those stories, and the community that have helped make it so successful. Please do get in touch with us, we hope you will join us on a historical voyage as we celebrate 30 years of Milford Marina!"
Milford Marina forms a central part of the Milford Waterfront development, which aims to create a vibrant destination in Pembrokeshire. You can find out more about Milford Waterfront here: www.milfordwaterfront.co.uk.
If you have any memories or photos of Milford Marina from the last 30 years, please contact Naomi Hunt at naomi.hunt@mhpa.co.uk or call Milford Marina on 01646 696 312.

-Ends-
Photo: Milford Marina pre-1991 to today. Photo Credit: Matthew Reynolds (above), Milford Waterfront (below).
Notes to Editors
Milford Marina
Awarded with 4 Gold Anchors by the Yacht Harbour Association, Milford Marina is one of Wales' top marinas with 24/7 security and fuel services. Situated on a non-tidal basin on the Milford Haven Waterway and owned and operated by the Port of Milford Haven, Milford Marina provides over 300 berths, 70 spaces in the on-site boatyard and a variety of services to boat owners. Electricity, fresh water and free Wi-Fi are available to all berths, and recently renovated toilet and showers with disabled facilities are just some of the first class services available.
Other services include laundry facilities, waste disposal, free car parking, boat lifts, boat maintenance services on-site and close proximity to Havens Head Retail Park, independent shops, restaurants, cafes and public transportation. The Marina is also situated on the doorstep of the Pembrokeshire Coast National Park and the islands of Skomer, Skokholm, Ramsey and Grassholm.
Milford Marina was named one of the top five UK marinas by Sailing Today readers in 2016, and was recognised by the judges for its multi-million pound investment in new lock gates which have created more frequent access times for visitors and berth holders. The upgraded operating system which was launched in 2019 has shortened the lock time to five minutes and enabled the lock gates to operate 24/7 with the tide.
For further information, visit www.milfordmarina.com or contact:
Anna Malloy
Port of Milford Haven
01646 696100
anna.malloy@mhpa.co.uk