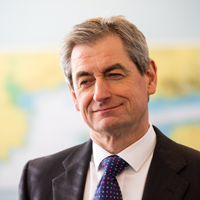 Ian Shipperley, CBE CEng FIMechE
Non-Executive Director
With a 40-year career in the Royal Navy, Ian is the Board's key strategic advisor for marine operations and risk. His enviable track record incorporates project delivery, strategic transformational change and management of risk and safety at senior leadership level. Ian has been instrumental in advancing the Port's risk profile and advising on marine operations. His experience in leading a major capital infrastructure optimisation programme is of additional value as we seek to maximise the best use of our asset base.
Biography
In a career in the Royal Navy spanning 40 years, Ian has operated in command positions at sea in almost every part of the globe undertaking disaster relief, peacekeeping and, in the 2003 Iraq War, commanding the Engineering Department of the aircraft carrier HMS Ocean.
Ian has built an enviable track record in project delivery, leadership of strategic transformational change and management of risk and safety at Board level gained through 20 years in key senior positions. His recent working life has been focused on providing logistics and engineering support to the Royal Navy through innovative contracting arrangements whilst also redefining the vital contribution of the Royal Navy's own 5000 strong highly skilled technical workforce.
For the last 3 years he has commanded HM Naval Base Devonport, the largest Naval Base in Western Europe, where his multi-faceted role as the public face of the Royal Navy in the South West combines nuclear and conventional safety responsibilities with management of the entire Port of Plymouth. An experienced Chair and Board member, he leads a major capital infrastructure optimisation programme and works closely with Plymouth City Council on a City Deal programme to regenerate redundant docks and waterfront facilities.
In his spare time, Ian chairs the Board of a charity involved in equine therapy whilst also pursuing interests in land management, sailing, cycling and walking. Awarded a CBE in the 2017 New Year's Honours list, he joined the Board of Milford Haven Port Authority in January 2018.