Fisherman's Safety Fund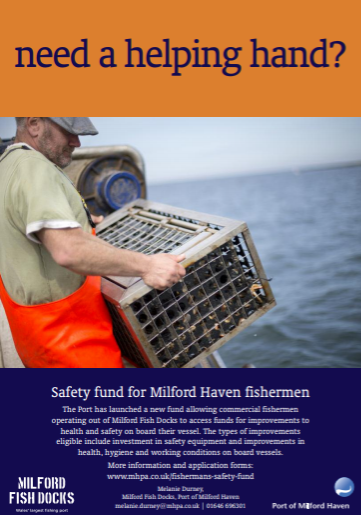 A new fund has been created especially for Milford Haven based fishermen or owners of fishing vessels using Milford Fish Docks as their home port.
The private funding will assist fishermen in accessing additional funding from the European Maritime and Fisheries Fund under Article 32: Health and Safety. Types of projects eligible include investments in on board safety equipment and improvements to the health, safety, hygiene or working conditions on board the vessel. 
To be eligible for funding applicants must:
a) operate or own a fishing vessel which is on the European Union (EU) fishing fleet register and which lands it catch at Milford Fish Docks; 
AND
b) be applying for a European Maritime and Fisheries Fund grant under measure 1.8 - Article 32: Health and Safety; 
AND
c) the project being applied for MUST improve the safety for fishermen on board the fishing vessel and go beyond the requirements set out in Union or National Law; 
AND
d) the vessel and operator MUST be fully compliant with applicable regulations, including Port of Milford Haven requirements.